What If Marilyn Monroe Hadn't Died in 1962? A Reality-Flouting Wish List of Films She Should Have Done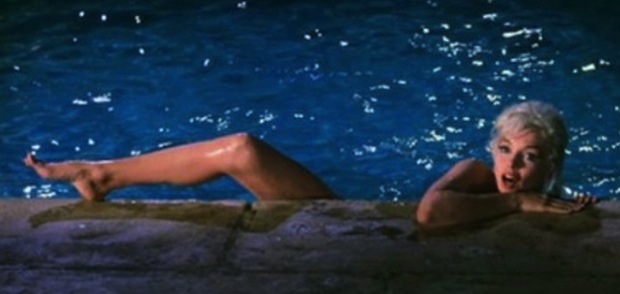 As I skim the warmed-over tributes to Marilyn Monroe on the dubious occasion of her being dead for 50 years, a variation of one headline keeps coming up: "50 Years Dead and More Alive Than Ever." Rather than post some smart-ass comment about lazy headline writers, I thought I'd work with that idea: If Marilyn was still alive, what would have been some great movie vehicles for her? Below, in no particular order, my Movieline Nine wish list, which mostly ignores what Monroe's actual would have been when these movies would have been made.  This is hypothetical after all, and, besides, if you, type "Marilyn Monroe" and "ageless" into Google, you get more than 3.8 million hits. Okay, Marilyn fans, you've been served.  Now, in the words of J.J. Hunsecker: "Match me."  Put your wish lists in the comments section below.
1. Who Framed Roger Rabbit? (1988): Because Monroe playing the voice of Jessica Rabbit and delivering the line, "I'm not bad, I'm just drawn that way," in her presumably wizened sex-kitten voice voice would have been a beautiful thing.
2. The Poseidon Adventure (1972): Actually, no time-space continuum meddling would have been necessary for Monroe to have starred in this movie.  Shelley Winters was 52 when she played the part of Belle Rosen and made that unforgettable — and ultimately sacrificial — swim to save Gene Hackman and secure that underwater lifeline. Monroe would have been 46, and I'd like to think she would have been as bawdy and mouthy as Winters at that age. The swimming scene could also have been a great nod to her hot-stuff swimming-pool scenes in Something's Got to Give, which, in keeping with the premise here, would have actually been finished.
3. Grey Gardens (2009): Given all of the media generated by alleged Monroe's relationships with John F. Kennedy and his brother Bobby, think of the press frenzy that would have resulted had she portrayed Jacqueline Onassis' loopy aunt, Edith "Big Edie" Bouvier Beale in Michael Sucsy's dramatic adaptation of the Maysles Brothers 1975 documentary.
4. Young Adult (2011):  This would require putting Diablo Cody and Jason Reitman in the Hot Tub Time Machine and sending them back to 1962, but, lo, the results! Monroe takes Charlize Theron's homewrecking role, and a young Don Rickles takes over for Patton Oswalt. That's a movie I want to see. Plus, the subject matter makes the movie much more talked-about in 1960s, thereby getting it more of the Oscar love it surely deserved.
5. Thelma & Louise (1991): Once again, some time-bending would be required since Monroe would have been in her mid-60s when this movie was made. The more important question, though is, would Marilyn have made a better Thelma or Louise?  I say Louise, because I bet that by the time she hit middle age, Monroe would have thrilled to play a scene where she shoots a man.
6. Flirting with Disaster (1996): Monroe would have been pushing 70--about 10 years older than Mary Tyler Moore was when the sitcom star turned heads as the acidic, body-conscious Mrs. Coplin. But if Monroe had cared for her her curves, David O. Russell would have pulled a hallmark performance from her. I suspect Monroe would not have been nearly as tart as Moore, but she would have been memorable.
7. Ocean's 11 (2001): You're thinking Angie Dickinson's role, I'm not.  I love Elliott Gould, particularly in this movie, but I think Steven Soderbergh directing Monroe as the female Reuben Tishkoff would have been so cool. Clooney and Pitt could have played off her as if they'd had a sexual past in younger days, and Monroe could have had a Mae West Sextette moment.
8. New York, New York (1977): I was planning to include a Hitchcock film on here until I read some of Tippi Hedren's interviews about her sexual harassment at the hands of the brilliant-but-brutish director.  Then it hit me: Marty!  Yes, I know the movie has its flaws, but it's ambitious, and Scorsese would have pushed Monroe to new heights in both the dramatic scenes and the musical numbers. Then again, Marilyn was no Liza Minnelli. So, if you're really struggling with it, throw reality to the wind and imagine Monroe in Sharon Stone's role in Casino.
9. Step Sisters (In my dreams) So, in some alternate reality, some super agent convinces Adam McKay to direct a remake of his 2008 comedy Step Brothers starring Madonna and Lady Gaga in, respectively, in the Will Ferrell and John C. Reilly roles. Monroe would play Mary Steenburgen's part. Kristen Wiig and Annie Mumolo would write. Yes, I know, it would be easier to raise Monroe from the dead than get Madonna to co-star in anything with Gaga, but just think of the box office.
Follow Frank DiGiacomo on Twitter.
Follow Movieline on Twitter.