Idiocracy Spin-Off In The Works? Terry Crews Talks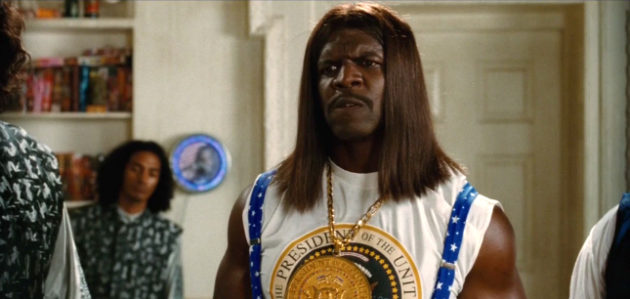 Back in 2006 Mike Judge's satire Idiocracy was legendarily screwed over upon release by Fox, who quietly dumped the underrated comedy with virtually no promotion and in just seven cities resulting in a paltry $444,093 domestic total. But the cautionary tale of an average Joe (Luke Wilson) who wakes up in an America populated by idiots went on to earn a cult following, featuring a scene-stealing turn by Terry Crews as five-time Ultimate Smackdown champion and porn superstar President Dwayne Elizondo Mountain Dew Herbert Camacho — and as Crews tells Movieline, President Camacho may soon be returning in a long-awaited Idiocracy spin-off.

[Read Movieline's full interview with Crews: On Expendables 2 And The Art Of The Action One-Liner]
Crews, who spoke with Movieline over the weekend while promoting Expendables 2, has for years expressed a desire to revisit the Camacho character in a follow-up to no avail. Said Crews back in 2007: "You know, it was a hard go the way Fox treated him and all that. It's hard. But I would love, in any way shape or form, to play Camacho again. Believe me, that's something I'm definitely going to talk about with him again. I'm just going to badger him and badger him until I can bring Camacho back in some form."
Well, Idiocracy fans, it looks like the badgering worked. Crews said Saturday that he's had recent talks with Judge and Fox to bring President Camacho back in a new project. "Me and Mike [Judge] are talking right now with Fox about some Camacho stuff," he told Movieline. "We literally met with Fox a week ago. It's so cool."
This iteration of an Idiocracy spin-off will apparently be web-based, according to Crews. "We're going to see what it becomes, but we got approval from Fox to do some stuff," he said. "We're going to start off on the internet and do some small interstitials with Camacho."
Crews is clearly excited to bring one of his best-loved characters back, though he and Judge will most certainly need those closeted Idiocracy fans to come out of the woodwork to voice their support. "We'll see! We've just got to gauge the interest and Fox wants to start slow… you've got to let it take off."
So crack open a case of celebratory Brawndo (it's got electrolytes) and raise a toast, and keep your fingers crossed that President Camacho's return goes off as planned. Who knows, with enough fan support we might finally get that President Camacho prequel Crews had been hoping for...
Who's up for more President Camacho? Chime in below!
Follow Jen Yamato on Twitter.
Follow Movieline on Twitter.