Spike Lee to Receive Venice Film Festival Honor; Dark Knight Rises Poised for 3rd Weekend Triumph: Biz Break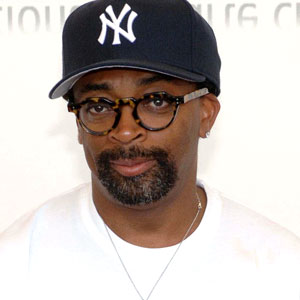 Also in Friday morning's round-up of news briefs, Warner Bros is eyeing Russell Crowe as it considers Stephen King project. Terrence Howard is set to play a hustler in a new pic, while a Game of Thrones star is joining an all-star cast in The Counselor and more.

Venice Film Festival to Fete Spike Lee
Lee will receive the festival's "Jaeger-LeCoultre Glory to the Filmmaker 2012 Award" on August 31st. The award is given to "a personality who has brought great innovation to contemporary cinema," according to the festival. Lee's Michael Jackson documentary Bad 25 will debut following the ceremony. The documentary looks at the 25th anniversary of the late singer's Bad album. The 69th Venice Film Festival takes place August 29th - September 8th.
Around the 'net…
Warner Bros. Looks to Dark Tower and Russell Crowe
The studio is getting a new script from Akiva Goldsman for the first installment of Stephen King's Western The Dark Tower. Director Ron Howard and producers Brian Grazer and Goldsman have been in talks with Crowe to play Deschain - humanity's last hope to save civilization as he journeys to find the Dark Tower, Deadline reports.
Box Office Preview: The Dark Knight Rises Set to Ascend Over Total Recall
Total Recall is tracking to open in the $25 - $30 million range, while TDKR is looking at $35 million in its third week. The Batman film passed the $600 million mark worldwide on Wednesday, THR reports.
Terrence Howard Joins A Girl and a Gun
Howard will play a hustler with big Hollywood dreams, but flounders. But after intervening in a mugging, he gets pulled into a world of intrigue. Juno Temple, Luis Guzman and Christopher Walken also star in the film written and directed by Filip Jan Rymsza, Deadline reports.
Game of Thrones Star Eyes The Counselor
Natalie Dormer played Margaery Tyrrell in Game of Thrones and is now looking to join the Ridley Scott-directed The Counselor with Javier Bardem, Penelope Cruz, Cameron Diaz, Michael Fassbender and Brad Pitt. Set on the Mexican border, it revolves around an attorney in need of money who decides to try out the cocaine trade, THR reports.
World of Warcraft Gets New Writer
Charles Leavitt (The Seventh Son has signed on to write the script for Legend Entertainment's video game adaptation World of Warcraft. The story will be based on the Activision/Blizzard Entertainment video game in which players take part in the ongoing struggle between the Horde and the Alliance, Movieweb reports.