Frank Miller's Batman: The Dark Knight Returns Graphic Novel Adaptation To Arrive In September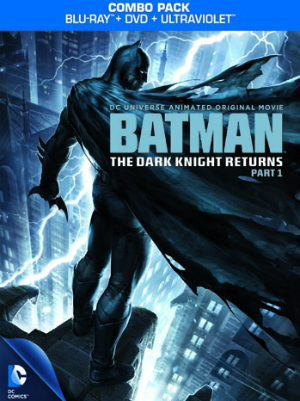 If you're already jonesing for more gritty Batman heroics, you won't have to wait for the eventual home video release of The Dark Knight Rises to get your fix: The folks at Warner Premiere have announced the September release of Batman: The Dark Knight Returns, an animated adaptation of Frank Miller's celebrated 1986 graphic novel charting the return of the retired Caped Crusader to a Gotham City in need. Bonus cool points: Peter Weller as Batman!

Miller's Dark Knight Returns story, which earned critical acclaim and has been heralded as one of the best graphic novels of all time, joins a slew of animated features from the studio behind previous direct-to-DVD animations Superman: Doomsday and Batman: Year One and will hit DVD/Blu-ray on September 25.
This version of Bat-lore follows a 55-year-old Bruce Wayne as he comes out of retirement to battle old foe Harvey Dent/Two Face, also tangling with The Joker, local cops, and the U.S. government. Sidekick Robin pops up — in the form of a 13-year-old girl named Carrie — as does fellow DC superhero Superman, with whom Batman battles. (Christopher Nolan's TDKR borrowed elements from Miller's Dark Knight Returns, Batman's retirement, beef with authorities, and arguably his fate included.)
Bonus features on the Dark Knight Returns release:
• Standard and high definition versions of the feature film
• UltraViolet™*
• Sneak Peak at Batman: The Dark Knight Returns, Part 2, the next DC Universe Animated Original Movie
• Featurette – "Her Name is Carrie … Her Role is Robin" – An all-new featurette. Experience the role of Robin, through the eyes of a female warrior.
• Featurette – "Batman and Me: The Bob Kane Story" – A documentary comprehensively chronicling the remarkable life of the creator of Batman.
• Two bonus episodes from Batman: The Animated Series handpicked by producer Alan Burnett: Two-Face, Parts 1 and 2.
• Digital Comic – "Batman: The Dark Knight Returns" (digital comic with cover art and three full comic pages)
[via THR]