Win ParaNorman Premiere Tickets with Your Best Haiku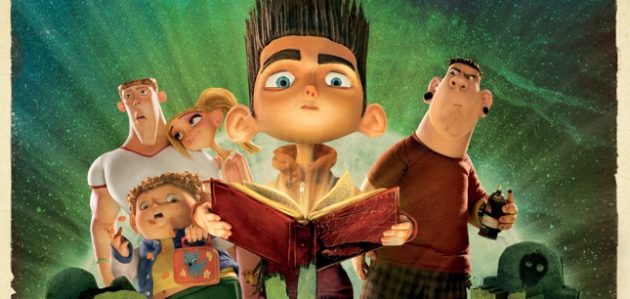 Calling all ParaNorman fans both young and not so young! You now have a chance to be among the first to check out the new stop-motion animated comedy thriller. Movieline is giving away a pair of tickets to the World Premiere of ParaNorman in addition to the pic's soundtrack (composed by Jon Brion!). To decide our lucky winner who will get to attend the event this coming Sunday, August 5th at 2pm at the Hollywood Theater, we're hosting a good old fashioned Haiku contest - or more specifically - a ParaNorman Haiku contest. That's right, get your creative writing game on, and add your lovingly typed Haiku in the comments below.

To get you started, here is a rundown of the film:
[Update: Warren C. is the winner! (scroll down to check it out). Thanks to all who submitted and check back for more contests in the future. All were clever (but some of you may want to check again on the rules of Haiku).]
Voiced by Anna Kendrick, Leslie Mann, Christopher Mintz-Plasse, John Goodman and Casey Affleck, the movie centers on a misunderstood boy who can speak with the dead. He uses his skill to take on ghosts, zombies and grown-ups to save his town from a longtime curse. Chris Butler and Sam Fell directed the Focus Features release.
ParaNorman will be released in theaters everywhere on August 17th. The soundtrack, with its music by famed composer, record producer, and singer-songwriter Jon Brion, is set for release August 14th from Relativity Music Group. Brion previously composed the music for three of Paul Thomas Anderson's features: Hard Eight (a collaboration with Michael Penn); Punch-Drunk Love and Magnolia. The latter earned him his first Grammy Award nomination. His second came for his score for Michel Gondry's Eternal Sunshine of the Spotless Mind. The Focus Features film also earned him 2 World Soundtrack Award nominations.
The contest is in conjunction with the soundtrack's release, so perhaps song titles may inspire a thought or two for your Haiku
Track Listing for ParaNorman's Soundtrack:
Zombie Attack In The Eighties 
Norman at the piano/main title 
Norman's walk 
Alvin attacks 
Enter Neil/Mr P/Ghost Walk/Ghost Dog 
Goodbye Mr P/Historic Drama/Grounded/Heavy visitation 
Alvin again/Scary bedroom 
Norman tries to keep it cool/ Grandma's got your back 
Moth Rock 
The dead shall be raised 
Zombies Attack 
People Attack 
Are we there yet? 
Aggie Fights 
Resolution 
Oh, and one more thing
The Rules (life is full of them, right?):
- Haiku entries must follow the 5-7-5 syllable format (all others are lovely for sure, but simply not a haiku).
- The contest is open now through 3pm Pacific Time Thursday, August 2nd
- Entrants must be able to attend the premiere in Los Angeles Sunday, August 15th at 2pm, Hollywood Theater.
- Entrants must register with their email address when you log into the Comment Section in order to be contacted if selected.
- Only one entry per person.
OK, rules are done. Get your goulish ghost talkin' thinking caps on and dish out your Haiku and win those tickets!
Also here's a pair of trailer to get those creative juices flowing…