TDKR Trumps $300M in N. America; Hawk Koch Steps Down from PGA: Biz Break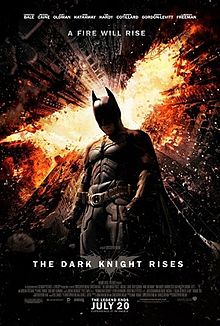 Also in Wednesday afternoon's round-up of news briefs news Hawk Koch steps down from PGA presidency; A pair of film pick-ups for U.S. release; Two companies team for a "social film project" and William Hurt and Michael McDonald take on new roles.

Hawk Koch Temporarily Stepping Down as PGA President
Koch was elected president of the Academy of Motion Picture Arts and Sciences last night. He's taking a leave of absence from the presidency of the Producers Guild of America. Co-president Mark Gordon will continue as the sole president of the group.
Excuse Me for Living Headed for U.S.
The film will open October 12 both theatrically and via day and date VOD platforms via DadaFilms/Required Viewing, which announced its acquisition of the title Wednesday. Starring Tom Pelphrey, Christopher Lloyd, Wayne Knight, Jerry Stiller, Robert Vaughn and Melissa Archer, the film centers on a charming, suicidal druggie must obey his rehab-clinic's demand to lead a seniors men's group or face incarceration and lose the love of his psychiatrist's daughter.
Sushi Girl Heads to U.S. Theaters
Phase 4 Films and Magnolia Home Entertainment jointly picked up North American rights to the film directed by Kern Saxton. The revenge thriller will have a theatrical release in the U.S. and cable VOD by Phase 4 in late 2012, with Blu-ray, DVD and digital VOD handled by Magnolia in early 2013. Mark Hamill stars as Fish, who has spent six years in jail. The night he is released, the four men he protected with silence celebrate his freedom with a congratulatory dinner. The meal is a lavish array of sushi, served off the naked body of a beautiful young woman. The sushi girl seems catatonic, trained to ignore everything in the room, even if things become dangerous.
Toshiba and Intel Team for The Beauty Inside
The two companies are collaborating to create a social film project and has a global online casting call to audition for a starring role online. Starring Topher Grace (That '70s Show) and Mary Elizabeth Winstead (Abraham Lincoln: Vampire Hunter) and directed by Sundance award-winning director Drake Doremus (Like Crazy), The Beauty Inside is an experiment in social entertainment. The project will engage the audience through social media and encourage them to connect and interact with Alex via Facebook. The film will be available online in weekly episodes starting on Aug. 16 and continue over 6 weeks.
Around the 'net…
The Dark Knight Rises Hits $300M Milestone
The final Batman installment by Christopher Nolan hit the $300 million milestone in North America Tuesday after 12 days. Only The Avengers and Nolan's The Dark Knight have hit that figure quicker, THR reports.
William Hurt Joins Winter's Tale
Hurt plays the father of a dying young woman who falls in love with a thief who breaks into her home in the Warner Bros adaptation of the novel by Mark Helprin. This will be Oscar-winning writer Adiva Goldsman's directorial debut, Deadline reports.
Michael McDonald Takes On The Heat
McDonald hails from the Fox series Mad TV. He joins Sandra Bullock and Melissa McCarthy, playing a villain in the 20th Century Fox-produced project which Paul Feig will direct, Deadline reports.