Coma Girl Dangles Again! Ridley and Tony Scott Revive Story Using Suspended Naked Lady Image From Original '78 Film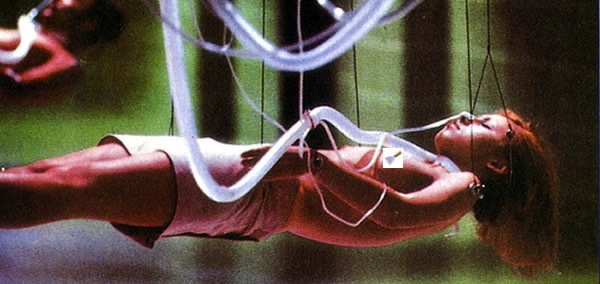 Ridley and Tony Scott know a thing or two about indelible movie scenes. So it's not surprising that the filmmakers behind, respectively, the chest burster scene in Alien and the "Bela Lugosi Is Dead"-accompanied blood-drinking scene at the opening of The Hunger would rely on an iconic single image to connect their A&E Network reboot of Coma to Michael Crichton's original 1978  movie adaptation of Robin Cook's novel about organ harvesting.

With a nod to the late Joe Strummer, I like to refer to the image as Coma Girl, and if you troll the Internet or pay attention to mass transit bus advertisements, you've probably seen her: an apparently naked woman dangling in the supine position from a series of wires beneath the web address: "Comaconspiracy.com".
A photographic version of that graphic — which smartly manages to be both creepy and titillating in an S&M kinda way (back then, The Story of O was almost as popular as Fifty Shades of Grey is today) — was used in a movie poster for the '78 film, and Guy Slattery, Executive Vice President of Marketing for A&E tells me that Coma Girl was intentionally used to connect the new production, which is a two-part miniseries, to the Crichton movie.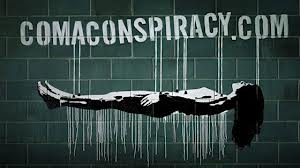 "The original was so impactful and such an iconic image," Slattery says. "The question was how could we update it and make it more of the moment." To those ends, Slattery says his department went the graffiti route for the viral teaser campaign that involved "legal tagging" in New York and Los Angeles, and online clips in which, for instance, "hacktvists" post the graphic of Coma Girl on the Times Square Jumbotron to draw attention to mysterious goings on at the foreboding looking Jefferson Institute.
Slattery explains that a subsequent campaign will feature actual "visualizations" of the hanging coma victims. "There are some very cool technological innovations that are used" in the A&E series, such as a silvery skin like "suit and feeding tubes" that are used to keep the coma victims alive. "I think fans are going to be blown away," says Slattery of the series which will air over two nights, Sept. 3 and 4, and stars Lauren Ambrose, Steven Pasquale, Geena Davis, James Woods, Ellen Burstyn and Richard Dreyfuss.
The marketing executive says the Scott brothers' Coma will be a "modern telling" of Cook's story. "It's about corporations overstepping the bounds and putting profits before morality." Cook's story was ahead of it's time in the late '70s, and now more relevant than ever thanks to advances in medicine since then.
Slattery also hinted that the A&E production may also reference another memorable scene in Crichton's movie — in which an ill-fated janitor is murdered by electrocution and freaky blue sparks shoot from one of his eyeballs. "Without revealing too much, there is a creepy scene involving an eye socket," he says.
Follow Frank DiGiacomo on Twitter.
Follow Movieline on Twitter.