Preparing for Tarantino: Spaghetti Western Compañeros Features Star of Original Django Before He Was Unchained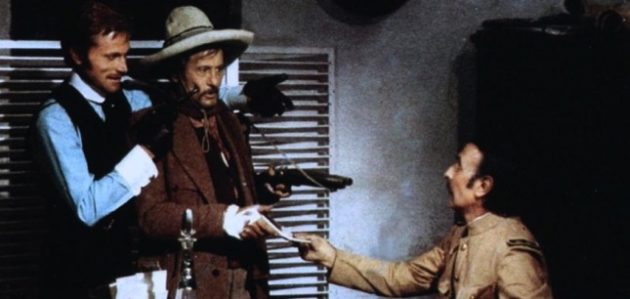 Before there was Django Unchained, there was Django, and the star of that 1966 spaghetti western, Franco Nero, can be found in the 1970 surreal comedy Compañeros, which also inspired Quentin Tarantino's upcoming anti-slavery opus.
The Film: Compañeros  (1970)
Why It's an Inessential Essential: With Django Unchained on the way, it's a good time to revisit the films that inspired Quentin Tarantino's upcoming pastiche. The winningly surreal action comedy Compañeros is the third installment of a trilogy that  spaghetti-western director Sergio Corbucci's shot with Franco Nero, the star of the original Django (1966) and the mysterious man  who makes a prominent cameo at the end of the Django Unchained trailer. Like most spaghetti westerns, Compañeros is a mish-mosh of narrative tropes that takes the kind of mercenary outsider made popular in the genre by A Fistful of Dollars (1964) and Django and places him in the political, revolutionary-centric context of "Zapata westerns" like Tepepa (1969) and Duck, You Sucker! (1971).
Compañeros stars Nero as "The Penguin," a Swedish mercenary who blows into town and is instantly plied with requests to join two warring factions: the current political regime and the revolutionaries. Soon enough, he bumps into the effusive Vasco, played by spaghetti-western staple Tomas Milian, a shoe-shine man who accidentally becomes a captain in the revolutionary cause.
Through a series of convoluted events that inevitably involve double- and triple-crosses, Vasco and the Penguin team-up to help protect a scientist (Fernando Rey!) who knows the combination to a hulking bank vault that everyone suspects houses a huge bounty. But to get to the safe, the trio has to avoid Jack Palance's mustachioed, pot-smoking baddy. (Did we mention that his character keeps a pet falcon? ) Almost everyone betrays everyone else along the way, making the film's uplifting finale a welcome one.
How the DVD Makes the Case for the Film: Blue Underground has re-released Compañeros in a very tempting box set with three other spaghetti westerns starring Milian: the middling Lucio Fulci's Four of the Apocalypse (1975) and the manic Sergio Sollima's Run, Man, Run (1968). The box set is basically a re-issue of their previous editions of the films, but there are some worthwhile special features, including commemorative featurettes on the films, that nicely complement the collection.
The 17-minute documentary included on the Run, Man, Run DVD boasts some entertaining soundbites — such as when Milian proudly exclaims, "If there's one thing in this life I'm sure of: I am fucking talented." The "In the Company of Compañeros"  featurette is especially informative. In it, Nero and Milian look back at their work in the film and even music composer Ennio Morricone talks a little about the main theme he composed ("a kind of joyful requiem, but also dramatic[...]it was a kind of reggae with a Gregorian theme."). Milian's anecdotes are the juiciest of this bunch. He explains that the way he he wore his beret in any given scene indicated how his character was feeling in that sequence. He also hilariously describes Jack Palance: "The way you see him behave in the movie? That's the way he behaved on the set. He knows he has a scary face and he uses it."
Other Trivia: Milian and Nero joke about their rivalry during the production of Compañeros and how they went on to become great friends. Milian has an especially funny anecdote about the time he showed up to the set of Compañeros an hour and a half before filming started, only to discover that Nero had already been there two hours prior to his arrival! According to Milian, Nero would get to set early so that he could have crow's feet applied to his face to make him look older. When a younger Milian asked Nero why he did this, Nero supposedly replied, "30 years from now, people are going to say: he never ages."
Follow Simon Abrams on Twitter.
Follow Movieline on Twitter.