Tougher Than the Rest: Is There an Actor Out There Who Could Star in The Bruce Springsteen Story?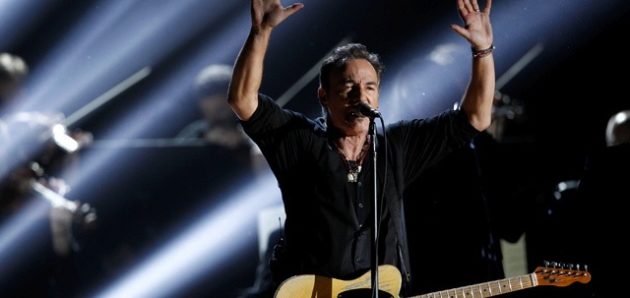 I finally got a chance to read David Remnick's revealing profile of Bruce Springsteen in the current issue of The New Yorker, and it revived a debate I've been having with myself for a long, long time: Could Hollywood do justice to a Springsteen biopic?

Full disclosure: I am a massive fan. My musical tastes are quite broad, but Springsteen has anchored the soundtrack of my life since high school. Forced to choose a favorite album, Darkness on the Edge of Town would be my probable pick. And the only concert tour I missed since The River was the one mounted in conjunction with The Seeger Sessions.
I became convinced that Springsteen's life should be a movie way back in 1980, just a few weeks before The River was released. I had yet to see Bruce live when I bought a ticket to in early September to see a concert documentary that had just been released called No Nukes because I'd read that he was in it.
Springsteen doesn't show up until well into the film — which was directed by Danny Goldberg, the music impresario who would become Nirvana and Sonic Youth's manager — but I won't soon forget that within seconds of his appearance on camera, I was rubbing away gooseflesh. Part of my reaction clearly had to do with my fan worship and with the fact that I was sitting virtually alone in the King's Court theater in the Oakland section of Pittsburgh, PA watching my rock hero on a gigantic screen.
But, watching a clip of the performance, which I've posted below, those chills still come back. With his hair combed back into a rockabilly pompadour, Springsteen is part Elvis, part James Dean. His performance is charged with dramatic tension. When you first see him on the stage of Madison Square Garden, he is blinking furiously — my guess is from the klieg lights, his nerves, or both — but, if he is anxious, it does not mar his stunning performance of "The River." Performances of "Thunder Road" and Maurice Williams "Stay" with Jackson Browne follow and they are just as compelling.
By the time I saw No Nukes, I was already well-versed in Springsteen's rough early life, his clashes with his father and his musical evolution (thanks to a large bootleg collection and my consumption of any reading material I could find). After seeing Bruce's Technicolor performance,  I emerged from the theater convinced that his life should be a movie.
The New Yorker profile resurrected that notion. Its revelations about Bruce's battle with depression, the connection between his art and his conflict-ridden family life, and how his transcendant four-hour live performances were once driven by "Pure fear and self-loathing and self-hatred" as he told Remnick, would make great material for a film that took an honest look at the life of one of rock's true greats.
I know who should direct it, too: Martin Scorsese. The story that Remnick told in The New Yorker read to me like a contemporary version of the filmmaker's fascinating (albeit  ultimately disappointing) New York, New York   Both are tales of uncompromising artists who struggle to have lives outside their art. Just substitute Springsteen's "New York City Serenade" for the title Kander and Ebb song of Scorsese's picture.
The Casino director would also do a great job of translating Springsteen's key relationships to the screen: his manager Jon Landau,  and his wife Patti Scialfa, who, in addition to being the mother of his children, is a member of  the E Street Band.
More importantly, there is no director better at capturing the excitement the passion and grittiness of rock 'n' roll. Scorsese's documentary about the last days of The Band, The Last Waltz is the finest movie there is on the subject.
The rub is this:  I don't think there's an actor out there who could do Springsteen better than Springsteen. When I first saw No Nukes, I thought that Al Pacino would have been a good choice to play the adult Bruce, but that's clearly not feasible. And after seeing Vincent Gallo's Buffalo 66 and seeing him perform in concert, I thought that he would be an interesting choice.  Then again, the equally uncompromising Gallo would probably not be interested in playing such a popular character.
In some ways, I think that playing Springsteen would be much more difficult than playing Bob Dylan. The latter has always cultivated a shape-shifting aura of mystery, and a steadfast aloofness from his fans, that is an easier clay for actors to use. (The title of Todd Haynes' Dylan film I'm Not There said it well.)  Springsteen has taken a much harder, and I think, more original route: that of the straightforward, earnest — and isolated — rocker who hasn't given up on connecting with his fans. "You empower them a little bit, they empower you," he told Remnick.
I've gone back and forth on this one for years, but after looking at that performance of "The River" one more time, and seeing Springsteen on his most recent Wrecking Ball tour, I'm increasingly of the mind that he is sui generis and that no amount of Hollywood magic-making could come close to imitating him on the big screen.
What do you think? Is there any actor that you could see playing Bruce? Write him down in the comments section. Better yet, cast the whole E Street Band.