Oranges Takes Neighborly Scandal to a New Coast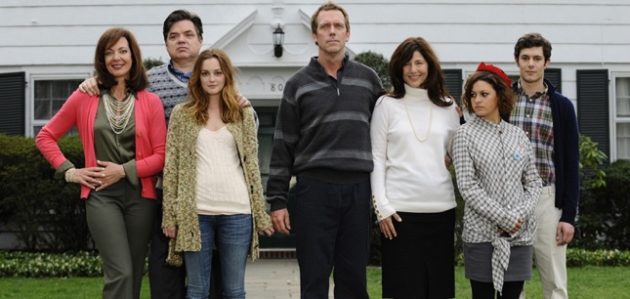 Suburban America has its share of Oranges. Orange County, CA, probably the richest and best known of the lot (there are of course fellow O.C. namesakes in New York and Florida) has had its hare in the spotlight with the original Real Housewives, not to mention that teen/young-adult primetime soap The O.C. and who could forget MTV's Laguna Beach. But watch, out, there's a new Orange grabbing the spotlight, and it even grabbed O.C. star Adam Brody who plays the successful son of a couple living in a leafy neighborhood in West Orange, NJ. The Oranges promises to take a bite out of the upper middle-class intrigue market.

But Brody appears to be incidental in the block scandal taking place on - you might have guessed, Orange Drive. The quick plot goes something like this: Two dads are morning jog-BFFs who live across the street from each other. One daughter comes come for a holiday after breaking up with her boyfriend. Instead of going for the neighbor's good looking age-appropriate son (that would be Brody) she takes a liking for the dad - a big uh-oh! And even a bigger problem, the neighbor's dad goes for it…
Here's the official synopsis and trailer below:
David and Paige Walling (Hugh Laurie, Catherine Keener) and Terry and Cathy Ostroff (Oliver Platt, Allison Janney) are best friends and neighbors living on Orange Drive in suburban New Jersey.  Their comfortable existence goes awry when prodigal daughter Nina Ostroff (Leighton Meester), newly broken up with her fiancé Ethan (Sam Rosen), returns home for Thanksgiving after a five-year absence.  Rather than developing an interest in the successful son of her neighbors, Toby Walling (Adam Brody), which would please both families, it's her parents' best friend David who captures Nina's attention.

When the connection between Nina and David becomes undeniable, everyone's lives are thrown into upheaval, particularly Vanessa Walling's (Alia Shawkat), Nina's childhood best friend.  It's not long before the ramifications of the affair begin to work on all of the family members in unexpected and hilarious ways, leading everyone to reawaken to their lives, reassess what it means to be happy, and realize that sometimes what looks like a disaster turns out to be the thing we need.