REVIEW: Step Up Revolution Pops (and Locks) in 3-D But Turns Out to Be Real Wallflower in the Story Department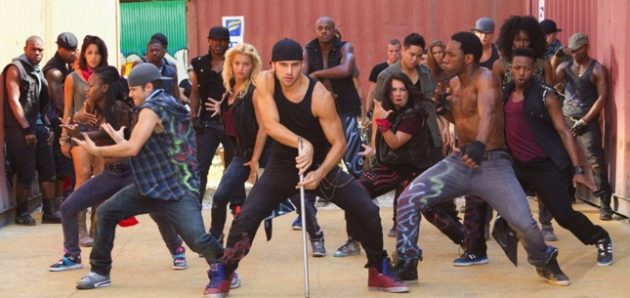 Although the proliferation of talent shows on TV is proof of just how much audiences have come back around to watching dance on screen, Step Up Revolution suggests Hollywood is still conflicted about how to film it.
On one hand, the fourth movie in the  Step Up franchise was shot in eye-popping 3-D. In choreographed numbers that grow crazier and more extravagant as the film proceeds, breakdancers kick their legs out toward the camera and hold gravity-defying poses; tracking shots glide across the pavement between cars as kids stride out in time to music; performers on bungee cords leap down a ramp toward us only to snap back. As spectacle, it is resoundingly cool.

On the other hand, these sequences tend to be edited to bits, as if the filmmakers were afraid their audience would get bored if either the camera or point of view weren't constantly in motion.
Directed by Scott Speer (of the web series "The LXD") with cinematography by Karsten Gopinath, the film's best shots, both in terms of dancing and the 3-D, are usually the ones in which the camera sits directly in front of the performers as their main audience, so that we can see their full bodies as they're used in impossible, athletic feats of movement.
But the film rarely maintains this perspective for more than a few seconds before cutting to a reaction shot, a close-up, then up and overhead, then off to the side. While the editing creates a sense of frantic momentum, it's also dizzying and disorienting.
Step Up Revolution is also not a movie you watch for its incredible story and dialogue. The film doesn't even share much connective tissue with its predecessors save for an appearance from Adam Sevani as Moose.
The plot features a boy, Sean (Ryan Guzman), and a girl, Emily (Kathryn McCormick) — who are both making their feature-film debuts. (McCormick was a finalist on the 2009 season of "So You Think You Can Dance.")
Sean is from the most adorably Epcot Center-worthy "gritty" Miami neighborhood ever, while she's the daughter of a wealthy real estate developer Bill Anderon (Peter Gallagher) with plans to knock the place down and build skyscrapers on top of it.
They meet cute at the beach club attached to the hotel that Emily's father owns. Sean, who works at the hotel, and Emily form a mutual admiration society after facing off in a deliciously over-the-top dance duel that's filmed like a fight scene. Emily flings sand at the camera and maneuvers Sean under the outdoor shower so that they can both have clingy wet outfits.
As you might expect, both have dancing aspirations. When not waiting tables, Sean and his friends make up a flash-mob dance troupe called The Mob. Emily is auditioning for a place in the prestigious Wynwood Dance Company.
Guzman, McCormick and the rest of the cast have generic good looks right out of an Abercrombie catalog and enough range to convincingly project the three sentiments for which the script (written by Amanda Brody) calls -- happy, sad and "dance face." Guzman is particularly gifted at committing to howlers without a wince or trace of irony. "I can't just do whatever I want," Emily says. "There are rules." Sean gets up close and breathes: "Break the rules."
At first, The Mob stages its elaborate pop-up routines as part of a YouTube competition -- the first page to reach 10 million hits wins a cash prize. But when the neighborhood in which Sean and his best friend Eddy (Misha Gabriel) grew up is threatened, Emily suggests they use their growing internet fame to draw attention and build opposition to the development plan (without her father's knowledge).
It's protest art! It's the 99 percent! And it's brutally phony, especially when picture pretends to be about the preservation of local culture. The Mob has essentially been formed out of a broad Google search for subcultures. There's the DJ, the videographer from the SoCal skate scene, the hacker, the street artist, the parkour dudes. The only Miami-specific concession is that the group hangs out at a salsa bar called Ricky's.
Step Up Revolution is, at least, shot on location in Miami, which looks golden and gorgeous in 3D helicopter shots and ridiculously, stiflingly pretty as a backdrop in others. When Sean and Emily practice a duet on the beach, you expect an "Obsession by Calvin Klein" logo to appear next to their faces in their final pose. And it wouldn't seem that out of place. The film is such a slick product that its vague anti-corporate ideas keep sliding right out of sight -- it takes some effort to situate that Au Bon Pain logo so prominently in the middle background of a dance sequence.
The movie ends with a never-explicated, and, frankly, insulting compromise. (Spoiler alert!) The Mob — who, three songs earlier, ended a performance with the declaration, 'We're not for sale!" — triumphantly sign with Nike as part of a marketing firm plan. Way to stick it to the man, y'all.
Follow Alison Willmore on Twitter.
Follow Movieline on Twitter.