Take a Gander at Ang Lee's Life of Pi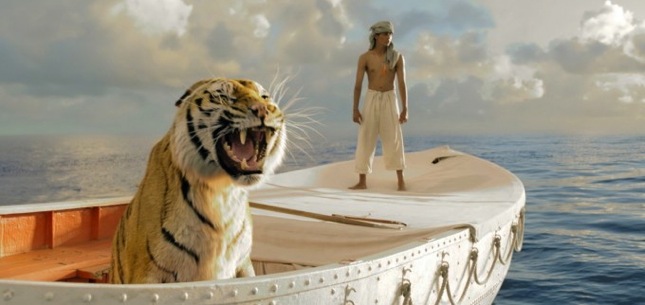 Oscar-winning director Ang Lee's upcoming 3-D adventure Life of Pi is based on the 2001 novel of the same name by Yann Martel. The fantasy-adventure follows "Pi," an Indian boy who survives a shipwreck and is stranded on a boat in the ocean with a Bengal tiger along with some other charming critters.

Tobey Maguire plays Martel in the film, which stars newcomer Suraj Sharma as the young Pi. The shots are ethereal and fantasy 3-D may be Lee's next calling card post Taking Woodstock and Lust, Caution (not to mention his award-winning Brokeback Mountain), which were decidedly less illusionary as this latest film appears to be. And, who wouldn't want to make friends with a cuddly Bengal tiger anyway?
Lee began shooting Life of Pi, which also stars Irrfan Khan, Gérard Depardieu, Shravanthi Sainath, Suraj Sharma and Tabu, in Taiwan and India earlier this year.
20th Century Fox will release Life of Pi November 21st.