Get A Peek At Superman in First Man of Steel Teasers: My Two Dads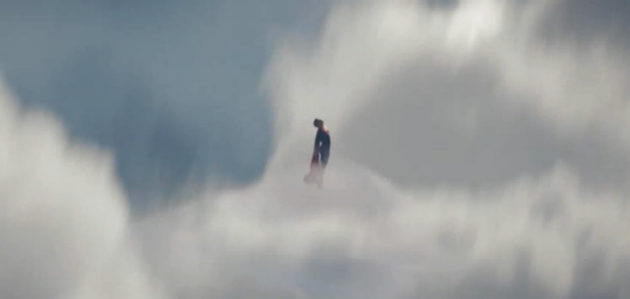 Today Warner Bros. released the first teaser for 2013's superhero reboot Man of Steel, an elegiac glimpse of Clark Kent (Henry Cavill), as a man and a boy, accompanied by memories of childhood paternal advice telling him of his destiny as Earth's savior. But Clark/Superman has two dads — biological Kryptonian pop Jor-El (Russell Crowe) and adoptive farmer pa Jonathan Kent (Kevin Costner), giving fans a neat double tease: One teaser, two voice-overs.

From the looks of things in the Zack Snyder-directed, Christopher Nolan-produced Man of Steel, it appears that Clark Kent is taking some "me" time off from his superhero calling to moonlight as a deep sea fisherman, Deadliest Catch-style. That vocation should give him time to ponder the childhood advice gleaned from his two dads, one who tells him he's destined to save humanity, another who tells him that destiny is his choice to make.
"You will give the people an ideal to strive towards. They'll raise behind you. They will stumble. They will fall. But in time, they will join you in the sun. In time, you will help them accomplish wonders."

[Via MSN]
"One day, you're going to have to make a choice. You have to decide what kind of man you want to grow up to be. Whoever that man is, good character or bad, it's going to change the world."
[vodpod id=Video.16514478&w=630&h=350&fv=vid%3D30051313%%3Dtrue%26volume%3D100%26enableFullScreen%3D1%26lang%3D]
[Via Yahoo]
The teaser had already been reportedly attached to prints of TDKR in theaters. I do like the idea of Hobo Superman slinging crawfish by day and hanging with a scruffy boatyard dog by night as he ponders life and stuff. But you tell me.
Man of Steel will be released June 14, 2013.
Follow Jen Yamato on Twitter.
Follow Movieline on Twitter.