COMIC-CON: Oz The Great and Powerful Gets A Trailer, Sends James Franco Over the Rainbow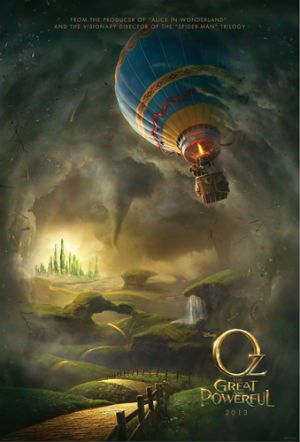 Years before Dorothy Gale plopped down in Oz right on top of that mean old stripey-footed wicked witch, a man — not just any man, but James Franco — accidentally found himself in the magical land, blown into a world of Technicolor whirlygigs and CG fairies by Sam Raimi. I mean, by a tornado. But as Raimi (along with surprise guests Michelle Williams and Mila Kunis) explained to the crowded Hall H audience Thursday at Comic-Con, his Oz won't have that much to do with the 1939 classic; for starters, those ruby slippers? Nowhere to be found.

"It's the story of a selfish man. A bit of a lothario, a bit of a cad, not a great guy at first," explained Raimi of the fame and fortune-hungry Oscar Diggs (Franco), the small-time magician at the center of the Oz prequel. After landing in Oz and meeting three witches — Theodora (Mila Kunis), Evanora (Rachel Weisz) and Glinda (Michelle Williams) — Diggs uses his illusionist skills to pass himself off as a long-fabled wizard. As in THE wizard. Of Oz.
The script (credited to writers Mitchell Kapner and David Lindsay-Abaire) culls information directly from L. Frank Baum's Oz books, but because of rights issues the ruby slippers made famous by Judy Garland could not be reprised in Oz. Not only that, the film won't feature the Tin Man, the Scarecrow, or the Cowardly Lion.
No matter; Raimi's got plenty else to keep you occupied, even if the first teaser (see below) is a tad underwhelming. Snatches of action and looks at the glam trio of witches feel Raimi-esque, and yet the entire thing feels as if the Evil Dead director were let loose with a few too many green screens in a CG sandbox. The world of Oz looks startlingly like Alice in Wonderland. (Producer Joe Roth also worked on Alice, not to mention Snow White and the Huntsman.)
Synopsis:
Disney's fantastical adventure "Oz The Great and Powerful," directed by Sam Raimi, imagines the origins of L. Frank Baum's beloved character, the Wizard of Oz. When Oscar Diggs (James Franco), a small-time circus magician with dubious ethics, is hurled away from dusty Kansas to the vibrant Land of Oz, he thinks he's hit the jackpot—fame and fortune are his for the taking—that is until he meets three witches, Theodora (Mila Kunis), Evanora (Rachel Weisz) and Glinda (Michelle Williams), who are not convinced he is the great wizard everyone's been expecting. Reluctantly drawn into the epic problems facing the Land of Oz and its inhabitants, Oscar must find out who is good and who is evil before it is too late. Putting his magical arts to use through illusion, ingenuity—and even a bit of wizardry—Oscar transforms himself not only into the great and powerful Wizard of Oz but into a better man as well.
Oz: the Great and Powerful hits theaters on March 8, 2013.
Follow Jen Yamato on Twitter.
Follow Movieline on Twitter.