REVIEW: Farewell, My Queen Moves Slowly, But It's Got Sensuousness on Its Side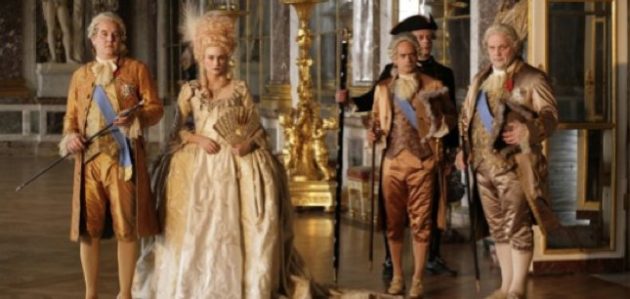 Snoozy but sumptuous, Benoît Jacquot's quasi-historical drama Farewell, My Queen isn't going to set the world aflame: The experience of watching it is something like lounging on a satin divan, being fanned lazily with a bouquet of ostrich plumes. But maybe that's part of what you want in a picture about the last days of Marie Antoinette's rule: The languorousness of Farewell, My Queen recalls the last days of summer, though in this case the air is quivering not with the chirping of crickets but with a whisper of foreboding. The picture coasts along quite nicely on the strength of its contemplative sensuality, its macaron colors, and the exquisite beauty of its three chief actresses, Léa Seydoux, Virginie Ledoyen and Diane Kruger. Oh, and there's nudity in it too, not to mention lesbian undertones – or are they overtones?

I knew that would get your attention. Kruger plays Marie Antoinette, and in our first glimpse of her, she's just awakened from what must have been a hell of a beauty sleep: Bedecked in a cream-colored nightie and sitting up in her bed at Versailles, she looks fresh and creamy and glowing, like a prized blond peach. One of her servants, the quiet but astute Sidonie Laborde (Seydoux), has come to read to her. Shall it be a novel or a fashion magazine today? It quickly becomes clear that Sidonie harbors a special fondness for her mistress and seeks to protect her from the gossip of the court — or worse. Meanwhile, the queen lavishes attention and worry on her own special favorite, the regal and somewhat icy Gabrielle de Polignac (Ledoyen). Sidonie hopes that someday the queen will single her out; but her hopes are dashed when she learns that her mistress has a special task in mind for her, one that could demand the ultimate sacrifice.
There are men in Farewell, My Queen: Xavier Beauvois plays Louis XVI, and Michel Robin appears as his historiographer. But really, who cares about them? The picture also gives an appropriate sense of the court's decadence while being only marginally tolerant of the queen's taste for expensive finery: I suspect that Farewell, My Queen is the movie that many of the detractors of Sofia Coppola's Marie Antoinette wanted that picture to be. Coppola didn't want to punish her heroine, and her refusal to bow to that kind of moralism turned off plenty of people who thought the movie should have been more politically astute.
But Farewell, My Queen — which was based on the novel by Chantal Thomas — is in its own way sympathetic to the ill-fated ruler. One servant claims to understand why Marie Antoinette spends hours staring at her accumulated luxury goods: "That's how she forgets she's queen." She also longs for love, and her ardor for Gabrielle appears to skim lightly over any perceived impropriety of feelings or behavior. Her desire is only partly carnal; it seems that Gabrielle is a kind of sisterly twin to her.
Seydoux's Sidonie registers all of this not with pouty disappointment but with greater resolve, and, ultimately, a resignation that's a kind of victory. Meanwhile, she's the most overtly sensuous of the three: Kruger's beauty is fine-grained and luminous, and Ledoyen's is cool as pink marble, but Seydoux has both brains and a thumping pulse. The picture's painterly production design and cinematography (by Katia Wyszkop and Romain Winding, respectively) ensure that everything is gorgeous to look at, but Jacquot never lets the picture slide into total sterility – even the sight of Seydoux scratching her mosquito bites is vaguely libidinous. Farewell, My Queen may move along at a stately pace, and it may not cut very deep. But even if it's essentially little more than a pretty porcelain figurine, it's one that at least nods to the glow and warmth of real flesh.
Follow Stephanie Zacharek on Twitter.
Follow Movieline on Twitter.