Charlie Kaufman, Dan Harmon Need You to Fund Their New Collaboration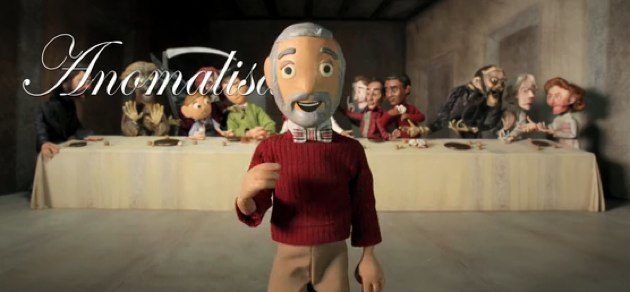 The ever-expanding Crowdsource Era has a new milestone: Charlie Kaufman needs $200,000 to help make a 40-minute stop-motion animated film called Anomalisa, and he's inviting exiled Community creator Dan Harmon — and you — along to help.

The project, which has already raised $80,000 on Kickstarter, brings Kaufman, Harmon, and the animators at Starburns Industries (Moral Orel, the stop-motion Community Christmas episode) together to tell the story of a motivational speaker who is "crippled by the mundanity of life" until "suddenly one day, a girl's voice pierces through the veil of nothingness. She fills him with such a rush of 'aliveness,' he's willing to abandon everything and everyone, including his own family, and escape with her to a better life."
Duke Johnson will direct, and apparently you will pay for it — though you can't really argue with the incentives: A 20-page screenplay about you, written by Dan Harmon? Hand-crafted puppets and/or sets? Executive producer credit? Skype chats with the filmmakers? Pretty amazing, and not cheap: The really good stuff will run you $1,000 and up, with some of the top prizes already spoken for. Maybe there is an aftermarket eBay kind of thing to auction off Kickstarter rewards? Someone should get on that. Anyway, good luck to all!
[Kickstarter via Gawker]