Philip Seymour Hoffman to Take On Lionsgate's The Hunger Games: Catching Fire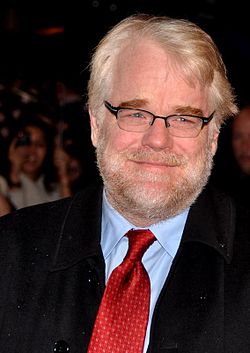 Osar-winning actor Philip Seymour Hoffman has been cast to play Plutarch Heavensbee, Head Gamemaker for The Hunger Games, studio Lionsgate said. Hoffman recently wrapped his gig playing Willy Loman on Broadway in the revival of Death of a Salesman, which earned him a Tony Award nomination. He will next been seen in Paul Thomas Anderson's The Master and indie film A Late Quartet, also starring Catherine Keener and Christopher Walken. The second installment of The Hunger Games franchise is based on Suzanne Collins' smash hit series of novels that have sold 36 million copies in the U.S.

Francis Lawrence will direct the latest pic, which also stars Jennifer Lawrence, Liam Hemsworth, Josh Hutcherson, Elizabeth Banks, Jena Malone, Woody Harrelson and Stanley Tucci. Lionsgate released its latest synopsis of the film, which it will release November 22nd:
The Hunger Games: Catching Fire begins as Katniss Everdeen has returned home safe after winning the 74th Annual Hunger Games along with fellow tribute Peeta Mellark.   Winning means that they must turn around and leave their family and close friends, embarking on a "Victor's Tour" of the districts.  Along the way Katniss senses that a rebellion is simmering, but the Capitol is still very much in control as President Snow prepares the 75th Annual Hunger Games (The Quarter Quell) - a competition that could change Panem forever. 
Lionsgate appears to be going all the way with The Hunger Games series, and why not? The first one has made over $404 million in the U.S. alone. The Hunger Games: Mockingjay is likely to follow Catching Fire and a fourth installment may follow.