REVIEW: Martin Donovan Reinvigorates Dramatic Clichés with Collaborator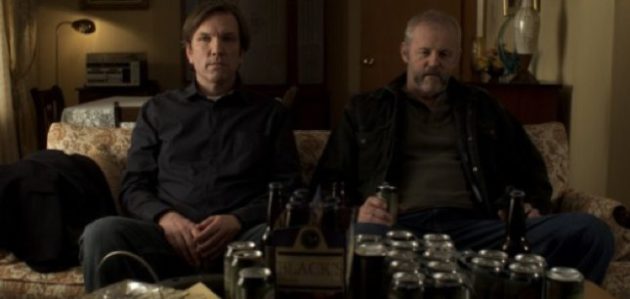 We don't see the writer in Robert Longfellow (Martin Donovan) for some significant time in Collaborator, Donovan's pensive, carefully woven writing and directing debut. Robert is a stalled playwright, and when we meet him, he's fleeing New York after poison-tipped reviews have slain his latest, long-awaited effort. Headed home to Los Angeles swaddled in self-pity, he must attend to his mother (Katherine Helmond), some Hollywood hack work, a simmering movie star (Olivia Williams) and a frustrated wife (former Hole bassist Melissa Auf der Maur) stashed in a frosty East Coast locale. But Robert looks mostly inward, giving everyone else the vague but warm-eyed attention Donovan has brought to his work as a Hal Hartley muse and in a host of supporting roles.

He's at his fuzziest with Gus (a hulking David Morse in a handlebar mustache), formerly the shady older kid from across the street, currently the ex-con still living with his mother opposite the Longfellow homestead. Gus has a habit of sneaking up on Robert while he's home visiting his mom, and in his gracious, facetious way Robert agrees to have a beer with him before he leaves. Of much greater concern is a long-anticipated assignation with Williams (assured in a small, tricky role), whom Robert turns to for comfort, damn those clichéd torpedoes.
A lot of Collaborator's moving parts shouldn't work, from the celebrity there for the taking to the painful contrast of smug self-consciousness and barreling authenticity set up between Robert and Gus. But Donovan manages to find a convincing balance between broad strokes and a small canvas, so that when Gus turns a guilt-induced beer between the two men into forced captivity, rather than gory melodrama what takes shape is a character piece that makes a literary job of deconstructing the hostage thriller.
Morse has a casual, unwieldy menace as the beer- and pill-addled Gus. A life in trouble with the law has made something of a bipolar ironist of him; he's cheerfully pragmatic one minute, dark and doleful the next. When Robert realizes that being waylaid en route to Williams has turned into what the SWAT team gathering outside his door might call a situation, rather than triggering panic and fear, it instigates a slower, more considered transformation in his demeanor. The direction is as calm and deliberate as the captive is, and the tension that develops has a natural rhythm to it. Robert the writer has taken over, and we watch his experience of the ordeal slide from shock to a narrative remove.
The writing is relaxed in the right places and heightened to a largely effective degree when it counts. Whether Gus's lot in life is the result of a failure of imagination comes up for discussion, and Robert suggests a storytelling exercise to help explain his craft but also his approach to and place in the world. A left turn near the end re-draws their dynamic as that of opposing political ideologies, and there it is Morse's brute sincerity that keeps the scenes from tipping into cant. By that point we can see Robert culling and appropriating in real time, a process that culminates with a window onto the storyteller's succubus heart. And a worn dramatic arc is renewed with the spark of life.
Follow Michelle Orange on Twitter.
Follow Movieline on Twitter.