REVIEW: Katy Perry Reveals Her True Self — Whoever That Is — in Katy Perry: Part of Me 3D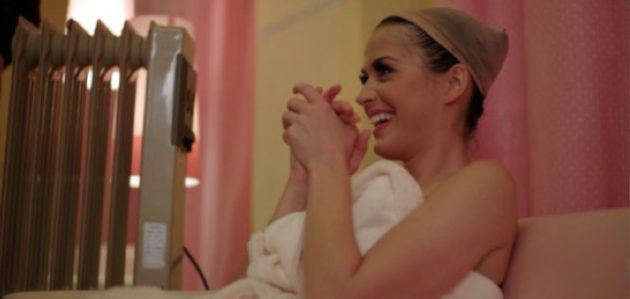 "Katy tells us that it's okay to stand out," one of pneumatic pop star Katy Perry's disciples intones at the beginning of Katy Perry: Part of Me 3D, a shiny, brightly colored piece of fan candy that follows the performer as she embarks on her 2011 world tour. Also the Word of Katy: "How could you ever be too cartoon-y?" The latter, exclaimed as Perry's being fitted into one of her Jetsons concession girl costumes, is a baldly rhetorical question. Somewhere in between those two lines of pop scripture lies the explanation for the only female artist to eke five number-one hits from a single album, 2010's Teenage Dream.

Do we still talk in terms of albums? The record-keepers do, anyway, still bound by the standards of the past. And Perry, the daughter of born-again evangelists (her father's aging rock god outfit makes more sense upon learning that he used to cook up LSD; no trace of her mother's romantic history with Jimi Hendrix remains), likes to play with a retro look. But she is an unmistakably modern creation, as the brand-conscious Part of Me confirms, beginning with the webcam testimonials from fans about the realness and relatability of their heroine that segue to an 18-year-old Katy earnestly confiding into her own laptop. Except the teenage Katy, as though guided by shivering foreknowledge of this exact moment, expresses her desire to be a leader, and her doubts about taking on "all those responsibilities."
Madonna was 25 when Dick Clark had her blurting out her plan "to rule the world." Perry has cited pop music's great survivor as an influence, but I couldn't watch Part of Me without thinking of how thinly it compares to Madonna: Truth or Dare, a backstage concert film that documents the singer at the peak of world domination. Madonna the road-mother, Madonna the hardass, Madonna the cut-up, Madonna the boyfriend emasculator, Madonna the "even when I feel like shit they love me" fan mocker, Madonna the incandescent performer who terrifies her followers as often as she transfixes them. I became a Madonna fan as a little girl; I could still dance the entire Blonde Ambition tour if I had to, like to save the world. Not that I've envisioned such a scenario. But then as now I would have chewed through my own wrist to avoid an encounter with the star, and the idea of relating to Madonna in some sisterly or otherwise pals-y way feels universe-invertingly wrong.
Part of Me works hard to establish that Katy Perry is just like you and me. At the same time, her coterie (including an assistant as well as costume and make-up teams) assure us that Perry deserves her fame. She's a good person from Santa Barbara who charmed even the Cobra Snake (a louche nightlife photographer) when she lit out for Los Angeles with a few bikinis, zero bibles, and a dream. Small doubts are seeded through the introductory interviews – can she handle a tour this big? – and even her manager expresses surprise at her success. There's a glaze to the talking head segments familiar from any number of MTV or VH-1 artist infomercials. The concert footage (from shows staged around the world) is meant to showcase the 3-D presentation; there are dancers bouncing around and some fleet camerawork, but the laser light effects make the best use of it.
Reality TV figureheads and first-time directors Dan Cutforth and Jane Lipsitz produced last year's wildly successful Justin Bieber: Never Say Never. The same formula of gifting a fan-made star back to the people is followed, but Cutforth and Lipsitz never ascend to a moment of kitsch ecstasy on par with Bieber's slow-mo signature lid shimmy. Perry is no dancer and not much of a mover; she's a more mannequin-ish presence, but an energizer mannequin, expressive and ever connecting. Her cabaret rendition of "I Kissed a Girl" has unprocessed flair, and a witty quick-change number sparks an absolute shitfit in the stands. Her solid and unsurprising voice sounds solid and unsurprising, but with any production as slick as this one – where personality is prized over performance – it's hard to know what you're getting.
Unlike Bieber, Perry had several close encounters with the big time. We learn of her various blighted record deals and studio makeovers (Perry tried everything from gospel to country to angry-girl rock) and get a small sense of her musicianship. Then, in a preposterous sequence, the story of her professional bottom (involving a botched partnership with pop gurus The Matrix) is crosscut with a bondage number in which Katy wails about being held hostage. After that, we are told, Perry decided to just be herself, and the rest is chart and bullet-bra-busting history.
And who is that? What can you say about someone whose real self resembles a marzipan anime character? Well, she's a goofball and a charmer, to start. She's sweet with fans and an everygirl champ with her crew. She's in every way devoted to the job of being Katy Perry, and the state of her marriage to comedian Russell Brand soon replaces the "can she hack it?" storyline. Or maybe it's another stem of the same storyline. "A baby can't have a baby," she pronounces after Brand texts her possible names for their kids. "And I'm still a baby." Background drama builds to a meltdown in Brazil, the show goes dramatically on, and the split is reframed as a feminist conundrum: The baby wants to work.
Despite this careful (and successful) depiction of a warm and decent person, Perry the pop star remains stubbornly two-dimensional. She's a sexless sex symbol, too girlish to be a girl, and her crack about being a cartoon feels critical to her anodyne appeal. Perry might sing about seeing your peacock and cover the front rows in whipped cream shot out of a two-foot canister, but it couldn't be more congenial or less erotic. Only an extreme fetishist could actually get off on her shtick; for the rest of us, especially her adoring tween army, she's a human Pez dispenser barking out candy-covered platitudes. Even her much-feted boobs seem friendly. Beckoning from behind them is the strangely modern conception of pop stardom, one that derives its powerful hold on (largely young, female) fans from the promise that if you can't live the cupcake dream, Katy Perry will gladly live it for you.
Follow Michelle Orange on Twitter.
Follow Movieline on Twitter.