Andre 3000's Jimi Hendrix Biopic Can't Use Any Jimi Hendrix Songs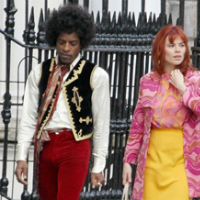 Oops! Might have been a good idea to settle the legality of using Jimi Hendrix songs before launching into production on a Hendrix biopic, but anyway: The filmmakers behind the Andre Benjamin-starring '60s-set pic announce that the rapper-actor will instead cover a greatest hits of period rock, including ditties by the Beatles, for the flick.

"The film – set in London in 1966 and 1967 – will include Benjamin's new versions of covers that Hendrix performed during those years, shortly before the release of his landmark debut, Are You Experienced," reports Rolling Stone. "Audiences will see Benjamin singing 'Sgt. Pepper's Lonely Hearts Club Band' (which Hendrix famously performed in a London club with members of the Beatles in the audience), 'Wild Thing,' 'Hound Dog,' Muddy Waters' 'Mannish Boy' and Elmore James' 'Bleeding Heart,' plus two songs, 'Future Trip' and 'Driving South,' that Hendrix played as a backup musician for Curtis Knight and the Squires."