REVIEW: Madea's Witness Protection Proves It's Time for Tyler Perry to Hang Up the Dress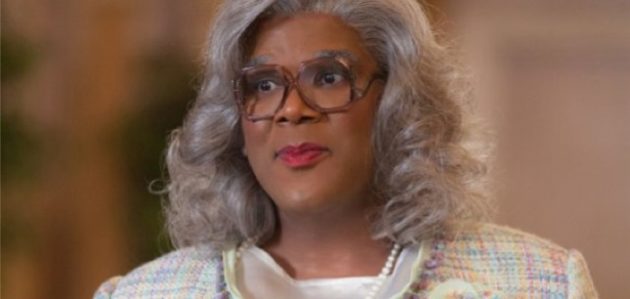 With Tyler Perry gradually segueing toward non-drag leading man status with Good Deeds and the upcoming James Patterson thriller Alex Cross, his latest appearance as the sassy, wisdom-dispensing matriarch of the title in Madea's Witness Protection has an aura of fatigued reluctance to it, as does the film itself. Perry mentioned to Movieline that while he planned to keep with the character as long as there was demand from audiences, he "would be pretty good with passing it on," and certainly in her franchise's seventh installment Mabel Simmons, better known as Madea, seems ready to do the same, unable to summon the usual levels of outrageousness as she once again plays magical mender of other people's problems.

In this case, those people are the Needleman family, who are forced to leave New York after George Needleman (Eugene Levy) gets set up as the fall guy after discovering his company has been operating on a Bernie Madoff-style Ponzi scheme that's resulted in the ripping off of multiple charities. The mafia is also somehow involved, and the case for whatever reason has to be tried in Atlanta -- all contortions needed to land five wealthy white people in the house Madea shares with her brother Joe (Perry) after her nephew Brian (also Perry), who's prosecuting the case, offers her $4,000 a month to keep them as part of a temporary witness protection arrangement.
By the time the film arrives at this setup -- which it does laboriously, forcing Levy to struggle to carry the action for a good while by sputtering and acting flustered -- you know exactly the type of humor that's in store. The film dutifully works the cultural/class differences between the Simmonses and the Needlemans, with Madea referring to the morning routine of wife Kate (Denise Richards) as "yoda" instead of yoga and Kate bemusedly looking over the butter-heavy Southern breakfast Madea prepares and observing, "It's a lot of carbs." George's senile mother Barbara (Doris Roberts) turns out to have had a past with Joe, a storyline that largely exists to allow Joe to explore the oblivious George's possible biracial heritage by asking him if he can swim, if he likes soul music and whether he prefers a "butt" or a "booty."
But most of the scenarios Madea's Witness Protection sets up don't actually come to much of a punchline. Brian talks about how Madea's "packing," which makes her a good choice to protect the Needlemans, but there's no armed stand-off between her and mafia goons or anyone else. Madea rips into Brian for how impossible it'll be for her to hide white people in her all-black neighborhood, but we hardly see them step outside, much less struggle to fit in. And after setting up teenage daughter Cindy (Danielle Campbell) as a massively sulky, entitled brat, the film preps us for a rewarding Madea smackdown that, when it comes, is practically mild. I, frankly, was hoping for at least some hair-pulling.
Scenes run loose and long in the film, up to and including the should-be climax in which Madea gets on a plane for the first time and travels to New York with George and neighborhood boy Jake (Romeo Miller), who invested his father's church's mortgage money with George's company. The trip turns out to have only been included to allow us to see Madea navigate airport security and nervously order a lot of drinks on the flight -- neither of which is a memorable spectacle -- allowing the film to end on such an anticlimactic note the cast comes across as in a hurry to move on to future gigs. As is, apparently, Perry, whose entertainment empire continues to impress in its scale, but who also seems ready to hang up the giant dress and grey wig and move on to something -- anything -- new.
Follow Alison Willmore on Twitter.
Follow Movieline on Twitter.