REVIEW: Woody Allen Blows Kisses to Rome, and Maybe Even to Us, in To Rome with Love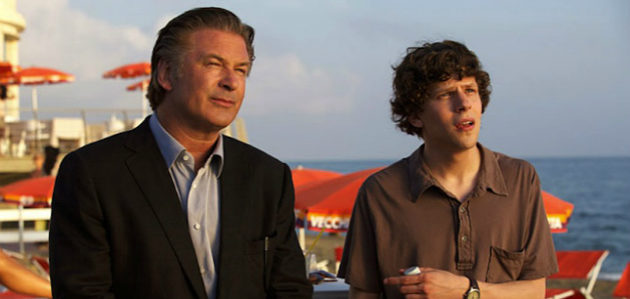 Before last year's wistfully joyous Midnight in Paris, Woody Allen's movies had gotten so self-conscious and sour-spirited — alleged "returns to form" Match Point, Cassandra's Dream and Vicky Cristina Barcelona included — that it was hard to have any hope for his future. Do older filmmakers really need a future, especially if, as Allen has, they've already banked more than a career's worth of fine work amid the failures? If they really enjoy working, as Allen seems to, I think they do — a future to shoot for, even if it's just tomorrow as opposed to next year, might be the very thing that makes them feel alive.

To Rome with Love — rangy, vaguely ridiculous and trepidatiously optimistic — is Allen's film for tomorrow: It will never be listed among his greats, but its willingness to surrender — that is, Allen's willingness to surrender — to mere pleasantness makes it charming enough. Everything in To Rome with Love, from the city traffic cop who opens the festivities with a "This-a city! It has-a the-million stories!"-style monologue, to the misunderstanding-among-young-marrieds plot thread (just one strand among many), points in the direction of breezy, stress-free pleasure. The picture is slight, but at least it's filled with air holes, for breathability — Allen is no longer obsessively sealing all the oxygen out, as he did in alleged moral exercises like Cassandra's Dream, or putting on a false, unflattering sourpuss face, as in Whatever Works.
This is an omnibus movie, a picture made up of little stories strung together like party lights: There's a young New Yorker touring Rome for the summer, played by a winsome Alison Pill, who meets a handsome Italian do-gooder lawyer (Flavio Parenti), launching a love affair that might just last forever. Or maybe not, but its first blush is potent enough to instigate an engagement, which means that the prospective bride's parents — a bickering pair of mismatched salt-and-pepper shakers played by Allen and Judy Davis — descend upon the city to meet their future son-in-law and his family. Allen, a former music-biz guy specializing in opera, has recently retired, a development that's brought on a bad case of knitted-eyebrow syndrome. Davis soothes him — so to speak — by assessing his problem thus: His problem is that he equates retirement with death. Done! Get over it! (She's a psychologist by trade, and clearly a problem-solving type.) Allen finds new hope when he meets the father of his daughter's fiancé, a mortician, and discovers the man has a wonderful singing voice — but only in the shower. He tries to build a career for this reluctant Caruso, an excuse for Allen the filmmaker to devise some wonderfully ridiculous set pieces. (It doesn't hurt that the singer is played by real-life tenor Fabio Armiliato.)
There's more: Jesse Eisenberg is a young architect studying in Rome and living happily with his girlfriend (an underused Greta Gerwig), until trouble hits paradise in the form of Gerwig's best friend, a self-absorbed actress played by Ellen Page. Alec Baldwin, as a once-great architect who now designs shopping malls, pops in and out of this subplot as a kind of Greek chorus, counseling Eisenberg on the best ways not to screw up his life. Elsewhere in Rome, small-town newlyweds played by Alessandro Tiberi and Allessandra Mastronardi have checked into a hotel, with the express purpose of impressing the young groom's straitlaced and well-connected family, a seemingly simple plan that's thrown out of whack by the arrival of Penelope Cruz in a tight red dress. (Cruz, playing up her considerable bombshell attributes, is exuberantly, cartoonishly sexy, and possibly the best thing about the movie, as she was in Vicky Cristina Barcelona.) And then there's Roberto Benigni, finally redeeming himself after his sub-The Day the Clown Cried debacle Life Is Beautiful, as an ordinary middle-class Roman who suddenly finds himself a celebrity for no good reason at all: He blinks at the photographers who swarm around him with their flashbulbs, his face a slapstick pantomime of WTF bewilderment.
Not all of these plot threads are created equal, and To Rome with Love drifts in and out of line as Allen tries to wrangle them all into submission, like a balloon salesman on a windy day. And the picture is not without its Allenesque obsessions: The "retirement constitutes death" equation is clearly the director's way of poking a long, pointy stick into his own subconscious reasons for working like a maniac. (Although, thankfully, his output has slowed a bit in recent years. Making that many smallish movies, in this somewhat inhospitable climate, surely can't be good for any filmmaker's disposition.)
To Rome with Love, in the end, feels vaguely unsatisfying, perhaps only because it's not Midnight in Paris, a picture that reckons with one character's — and Allen's — longing for a magical dream past that couldn't possibly have existed. In that film, Allen built his own Paris of the '20s, a place where Ernest Hemingway, Zelda Fitzgerald and Gertrude Stein could run free in his brain like characters in a Chuck Jones cartoon. The result was rapturous, affirmative, and yet more than a little melancholic. To Rome with Love is far less complex, and not nearly as moodily exhilarating. But it's dappled with joy here and there, as when supersexy Italian actress Ornella Muti shows up in a cameo, as a fictional movie star named Pia Fusari. It must have tickled Allen to put Muti, a figure straight out of '70s art-house New York, in one of his movies. We're used to Woody Allen's bitter laughter. What a pleasure it is to hear him giggle.
Follow Stephanie Zacharek on Twitter.
Follow Movieline on Twitter.