Madagascar 3 Likely to Dominate Weekend Box Office, Christina Ricci Heads to Oz: Biz Break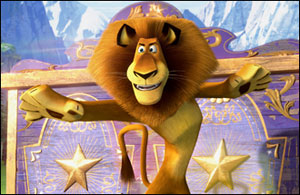 Also rounding out Friday's round up of news briefs, Harvey Weinstein receives UCLA honors, New York's LGBT Festival sets its opener, the Austin Film Festival touts its record submission and California is chided for not doing enough to keep productions from ditching the state.

Harvey Weinstein Receives UCLA Honors
The Weinstein Company chief was feted by UCLA's student directors as the school's Champion Spirit Award recipient. The ceremony took place Thursday night at the Directors Guild of America as part of the UCLA School of Theater, Film and Television Film Festival. The award was created in 2010 recognizing a person in the entertainment industry who has "courage, integrity, insight and inspiration and is dedicated to fostering and nurturing emerging talent." Recent winners include Stacey Snider and Roger Corman.
Joshua Sanchez's Four to Kick Off NYC LGBT Festival
The film follows four people as they spend a holiday encountering life changing moments, both subtle and writ large and learn to cope with the lack of honesty in their lives. Closing the event will be Marialy Rivas' acclaimed Chilean film Young & Wild.  Based on the life of co-screenwriter Camila Gutiérrez, the film is a sexually-charged, stunning and energetic look at family and youth culture in contemporary Chile.  The film was the recipient of the World Cinema Screenwriting Award at the 2012 Sundance Film Festival. NewFest will take place July 27 - 31 at the Film Society of Lincoln Center's Walter Reade Theater.
Austin Film Festival Touts Record Submissions
The event said it has received a record number of entries for its 19th annual Screenplay competition. 6,500 entries came in, up by 12% from last year's 5,800. The 19th annual Austin Film Festival & Conference will be held Oct 18 - 25, 2012 in Austin, TX.
Around the 'net…
Madagascar 3 Should Win Box Office Father's Day Weekend
New comers Rock of Ages and That's My Boy are expected to perform modestly this weekend, which should see Madagascar 3 reigning at the box office, Variety reports.
Christina Ricci Boards Australian Indie
Set in an inner-city beset with riots, Ricci stars as an American drama teacher who forms a connection to a troubled Aboriginal teen. The project is the debut feature of writer-director Sarah Spillane, Deadline reports.
Report Warns California Not Doing Enough to Keep Movie/TV Productions
The Milken Institute says the state's efforts to halt runaway production falls short even with an extension of the $100 million annual tax incentive, THR reports.