2nd Hunger Games Makes IMAX Date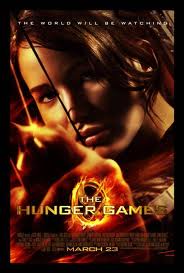 The Hunger Games: Catching Fire will be released via IMAX on November 23rd. Director Francis Lawrence will make use of IMAX cameras in filming portions of the second installment of the franchise, Lionsgate is touting. Oscar-nominee Jennifer Lawrence will reprise her role as Katniss Everdeen along with fellow cast members Liam Hemsworth, and Josh Hutcherson.

The first round of Hunger Games hit the $400 million milestone in North America and has hit $650 million worldwide. The film will hit the huge Chinese market later this month. The Hunger Games: Catching Fire is based on the second book in Suzanne Collins' bestselling series.  It chronicles the life of Katniss Everdeen after she emerges from the 74th Annual Hunger Games victorious, but still not safe.  Even as she becomes an unwitting symbol of the rebellion mounting in the districts, Katniss never loses sight of her commitment to protect her family. The Hunger Games: Catching Fire will be directed by Francis Lawrence, and produced by Nina Jacobson's Color Force in tandem with producer Jon Kilik. The novel on which the film is based is the second in a trilogy that has over 36 million copies in print in the U.S. alone. 
"We are thrilled to continue the productive partnership we enjoyed with IMAX on the first installment of The Hunger Games," said Lionsgate Motion Picture Group Co-Chairs Rob Friedman and Patrick Wachsberger in a joint statement.  "Our partnership on the first Hunger Games film was a resounding success, and we look forward to building on that experience with an expanded IMAX relationship on Catching Fire."