Smokey and the Bandit at 35: A Case for the Genius of Hal Needham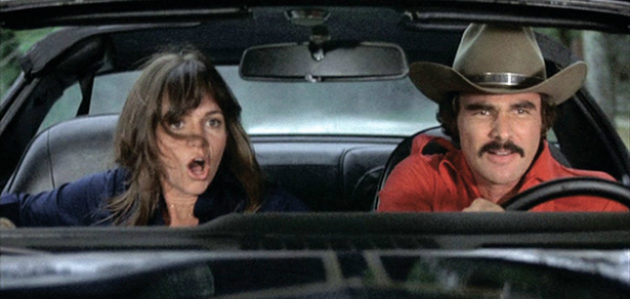 As part of their 100th anniversary, Universal Studios has just released a commemorative Blu-Ray edition of Smokey and the Bandit. Today, the 35-year old Burt Reynolds vehicle is mostly remembered for Reynolds' good ol' boy schtick, Jackie Gleason's mugging and first-time director Hal Needham's stuntwork. Unfortunately, while Needham's contributions to Smokey are probably the most essential, he remains the least renowned of that bunch. But thanks to the behind the scenes featurette included on Universal's new release, laypeople and stuntwork junkies alike can get a good idea of why Smokey and the Bandit belongs to Hal Needham.

Apart from co-writing the film's screenplay, Needham, the best paid American stuntman to date, also played a big part in casting Smokey and the Bandit (Reynolds, in archival interview footage, compares the film to "Chinese food" and "sex"). After working with Reynolds on Gator, Needham showed the leading man the script for Smokey. Reynolds, who put Needham up in his house for twelve years after Needham divorced his first wife, immediately scoffed at the crude screenplay but quickly succumbed to Needham's charms.
The same was true of an initially skeptical Gleason. According to Needham, the cocky pitch that he won Gleason over with went something like this: "'I'm going to direct it, I love your work, and I think it's a funny, funny part for you.' He says, 'I'll do it.' That's all there was to it."
Needham's utterly charming take-no-prisoners attitude also won over co-star and singer Jerry Reed. Reed apparently banged out East Bound and Down, the film's iconic theme song, overnight. When he played it for Needham, he nervously offered to change it if it wasn't satisfactory. "'You change one word, one note and I'll choke ya,'" Needham recalls jocularly threatening.
Still, the car chases and crashes that Needham choreographed are undoubtedly the best reason why the man was and remains such a memorable presence. "By the time we got to the last shot, we barely had a car runnin'," Needham recalls. He specifically remembers that the Trans-Am used during the film's iconic bridge jump scene was a wreck after it landed on the other side of the bridge.
But that devil-may-care attitude is why everyone wanted to work with Needham, a man that broke his back twice and is still walking. In the featurette, Needham describes a stunt where a cop car vaults onto the back of a flat-bed truck. For the first take, the car overshot the truck but that didn't phase the stunt driver. "He just stuck it back in gear," Needham said, "went back to his start position and said, 'Ok, Hal, ready for take two.' So we did take two and we got it."
Simon Abrams is a NY-based freelance film critic whose work has been featured in outlets like The Village Voice, Time Out New York, Vulture and Esquire. Additionally, some people like his writing, which he collects at Extended Cut.