REVIEW: Bloodless Bel Ami Wastes Robert Pattinson's Perfectly Intriguing Face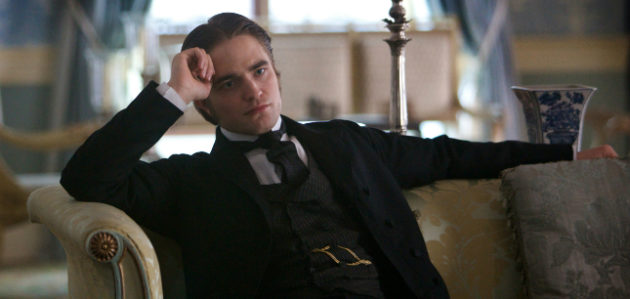 Though he plays one of the great roués of literature – the social climbing, bloomer-dropping hero at the center of Guy de Maupassant's 1895 novel – the focus on Robert Pattinson in Bel Ami is notably above the belt. This is certainly true in the literal sense, where first-time directing team Declan Donnellan and Nick Ormerod lavish attention on Pattinson's extraordinary face, even get a little lost in it at times. But it also feels like the source of a larger lack – that of the libidinous physicality and charismatic breadth of a well-rounded scoundrel.

Like Madonna's recent W.E., the look of Bel Ami is polished to a fine, if somewhat compensatory gloss. Even the prostitutes in the Parisian bar where Georges Duroy (Pattinson) washes up after his stint fighting on the Algerian front are styled like Moulin Rouge extras. A run-in with his former superior (and current newspaper man) Charles Forestier (Philip Glenister) at that bar yields the penniless Georges an invitation to a most fortuitous dinner. Donnellan and Ormerod, both veterans of the UK theater, give some cheek to the scene that follows, in which the beauteous Georges makes his social debut, and his future conquests are introduced only to align like a three-pineapple jackpot.
George can't believe his luck, and neither can we: Forestier's formidable wife Madeleine is played by Uma Thurman; the wife of newspaper owner Rousset (Colm Meaney) is played by Kristin Scott Thomas; and the group's pet, a lonely society wife named Clotilde, is played by Christina Ricci. Pattinson's lips seem to visibly redden as the women take their bows, but the hope of watching him unleash a few eternities of Edwardian frustration in a highbrow bodice-ripper begins to dissipate as Georges proves to be more a man of reaction than action. When Madeleine proposes a newspaper column for Georges at dinner, he looks on with a smirk; when she writes the inaugural column for him during their first meeting à deux, informing him besides of her total disinterest in being his mistress, the camera lingers on a similar expression. Whatever feeling or calculation lies behind it is certainly well disguised, and the gap between Pattinson's plentiful reaction shots and their meaning only widens as the film goes on.
The women take to Georges immediately, though his knack appears to be less for insinuation than good timing. Clotilde is in the market for a lover, and lets a sumptuous apartment for their trysts. Meanwhile Georges's ghostwritten column is a success, though the men see him as an empty waistcoat and Forestier in particular treats him with disgust. When his new position is jeopardized and Georges has to start scheming in earnest, his moves are sudden and poorly integrated. The hand-delivery of a basket of pears to Mme. Rousset seems to restore his job, and the idea that Georges is driven by a determination to abandon his peasant roots is most convincing when he spells it out for Clotilde. Characterization feels like an afterthought, and is only tended to when it becomes a necessity of the plot.
And yet on the whole Bel Ami is highly watchable. As is often the case in costume pictures especially, the degree to which different characters are convincingly of the world of the film varies. Thomas, for instance, is at once tragically and comically lovely as the good, religious wife seduced out of her right mind. She can telegraph that world in a glance and a few words. Thurman has a tougher time with Madeleine; although she makes a shattering indictment of Georges near the end, her character in particular – the ambitious political player stymied by her sex – demonstrates an endemic problem with the script (by Rachel Bennette) and the direction: The best performances seem to inhabit a story that the filmmaking doesn't bear out. Executive-produced by Simon Fuller (the American Idol creator is described in the press notes as being in the business of "world-class entertainment properties and icons"), at times Bel Ami feels like someone made an elaborate pretense of convincing both Pattinson and the audience that there's more to the film than his pretty face.
But what a face: Classically handsome one moment, darkly sensual the next, then almost grotesque in the wrong light, then back to boyish and unsullied. I haven't seen David Cronenberg's Cosmopolis yet, but if there is one director who might get a handle on that face and put its chameleon planes to proper use, it might be him. Although his face is his fortune in Bel Ami, Pattinson feels ill used, his raw talents still waiting for not just the right role but the right director. In that way, one of the most welcome of the film's twists – watching a young man engage in the Victorian bloodsport of making a good marriage – has a separate resonance. Something tells me a more perfect concord awaits.
Follow Michelle Orange on Twitter.
Follow Movieline on Twitter.