REVIEW: See Jane Fonda Cradling Some Very Nice-Looking Chickens in Peace, Love & Misunderstanding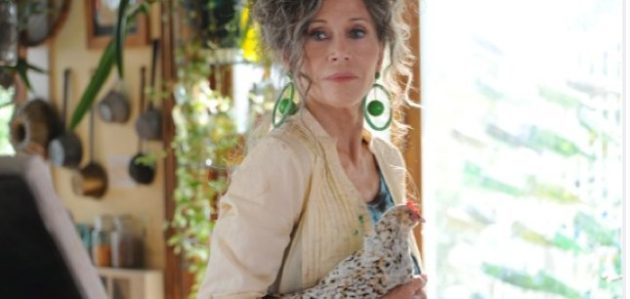 Jane Fonda shows up so infrequently in movies these days that it doesn't matter if they look potentially good or dismal: Even when the performances (not to mention the movies around them) don't quite work, Fonda always gives you something to watch. That's certainly true in Bruce Beresford's Peace, Love & Misunderstanding, an aimless if good-natured picture that casts Fonda in the role of a Woodstock-dwelling, ugly-art-making hippie-dippie mom who welcomes her estranged and very uptight daughter – played by Catherine Keener – back into her mother-earth arms. Her goal: To get her offspring, and her offspring's offspring, to loosen up and start getting it on.

What's that you're saying? You really don't want to see Jane Fonda in twirly Grateful Dead skirts and dreadful ethnic earrings, urging the younger folk to get in touch with their inner Alex Comfort? Neither did I. But the more I think about Peace, Love & Misunderstanding, the more I marvel that anyone would even cast Fonda, the most iron-willed of actresses, in this sort of role. None of it quite works, but it seems Beresford did his damnedest to try to pull it off.
As the movie opens, the marriage between rich city people Diane (Keener) and Mark (Kyle MacLachlan) is clearly on the skids. Mark is the kind of guy who proclaims at a dinner party that all of Eugene O'Neill's plays could easily be cut in half. How anyone could share a bed with this boob, let alone not murder him in his sleep, is beyond me, but Diane is crestfallen when Mark asks her for a divorce. She packs up the couple's two teenage kids, awkward adolescent Jake (Nat Wolff) and luminous alien child Zoe (Elizabeth Olsen), and heads to her mother's house upstate – even though, we soon learn, she can't stand the woman who raised her, a free spirit named Grace (Fonda) who lives on a ramshackle but very expensive bit of hippie real estate adorned with hideous sculptures (which she makes herself, natch) and roaming chickens.
Diane is a high-strung lawyer type who resents her mother for not having given her enough structure, guidance and security while growing up; Grace – who also, incidentally, sells pot on the side - just wants her daughter to chill out. She also doesn't think it would be a bad idea if Diane got together with the local hottie, a woodworker – yes, ladies, a man who works with his hands! – played by Jeffrey Dean Morgan. But that's not all: Grace also wants her grandchildren to enjoy the pleasure and freedom of human sexuality, and there are several mildly embarrassing scenes in which she counsels the young 'uns on how to get things cooking with their respective crushes (played by Marissa O'Donnell and the unnervingly good-looking Chace Crawford). If the van's a rocking', don't come knockin'.
Grace is the kind of woman who not only keeps chickens, but allows them to wander into the house. It must be said, though, that these are very clean, pretty chickens, and next to Fonda, they were my favorite part of Peace, Love & Misunderstanding. To watch Jane Fonda cradle a speckled puff of tawny feathers, all the while radiating a sort of businesslike affection – well, that's something to see. But the rest of Peace, Love & Misunderstanding doesn't go down so easy. The script, by Joseph Muszynski and Christina Mengert, wanders along very familiar trails, and even though Beresford tries to keep things clicking at a reasonable clip, the thing moves like a pair of too-long bell-bottoms dragging in the mud. Keener, an actress who's usually great fun to watch, can't seem to muster much enthusiasm for her extremely constrained character, and can you blame her? But again, at least there's Fonda.
Fonda's last two movies, Garry Marshall's 2007 Georgia Rule and Robert Luketic's 2005 Monster-in-Law, were ridiculous little things, though there's some faint hope looming ahead in the form of Aaron Sorkin's upcoming show The Newsroom. Meanwhile, in Peace, Love & Misunderstanding, we need to reckon with the idea of Fonda as a woman who lets it all hang loose – which, as brilliant an actress as Fonda may be (and her radical politics aside), is a pretty big stretch. Still, this stroke of miscasting is fascinating to watch by itself. Fonda isn't soft enough to play this kind of character, but she wraps herself around the task like an anaconda. When it comes to letting her freak flag fly, she's damn serious.