Greta Gerwig & Stars Turn Out for NYC Premiere of Lola Versus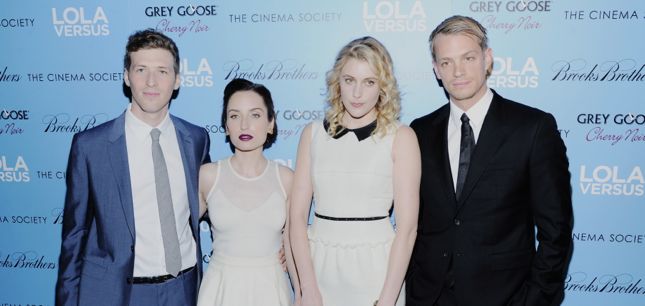 Current "It-Girl" Greta Gerwig, Joel Kinnaman and Zoe Lister Jones were among the cast who turned up for the New York premiere Tuesday night of director Daryl Wein's Lola Versus, hosted by the Cinema Society. A bumper crop of other actors and socialites also joined in on the fun at the screening in Manhattan's Chelsea neighborhood, including Zachary Quinto, Noah Baumbach, Olivia Munn, Parker Posey, Russell Simmons, Eve Plumb, Jesse Peretz, Gaby Hoffman, Ed Droste (lead singer of Grizzly Bear) for the screening and after-party at the Boom Boom Room atop the Standard Hotel in the Meatpacking District.



In the film, Gerwig plays Lola who is suddenly dumped by her fiance only weeks before their wedding. Her life slowly tailspins as she seeks out close friends for solace and sexual mishaps as she faces turning 30 and being suddenly single.
"Zoe [Lister Jones] and I were both single and interested in stories that were honest about break-ups and not just glorified versions of them," Wein told ML at the Standard Tuesday night. He co-wrote the film along with Lister Jones who co-stars in the film with Gerwig. "Greta is great for the part because she is not an overly-polished lead. She's vulnerable, likable but still at times unlikable," he added.
Wein said the idea for Lola Versus came to him and Lister-Jones though in the interim other films that deal with being single have cropped up. "There are stories with a feminist [bent] that have come up since then, and we're all for it. We want more realistic depictions of break-ups and being single to be out there."


Not quite so single in real-life, Gerwig danced with her current beau Noah Baumbach at the party, which was co-hosted Brooks Brothers and Grey Goose along with Cinema Society and its founder Andrew Saffir. Of course there were signature vodka cocktails and the champagne and spectacular Manhattan views kept the soiree going well passed midnight.
Fox Searchlight will open Lola Versus in limited release beginning this Friday.
[Photo Credit: Nick Hunt/Patrick McMullan Co.]