A Not So Hippie Premiere of Peace, Love & Misunderstanding in New York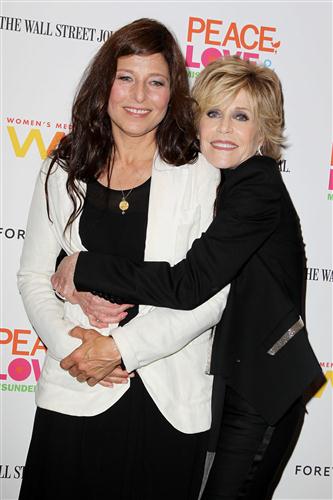 A swarm of celebs including cast members turned out Monday night for the New York premiere of Jane Fonda and Catherine Keener starrer, Peace, Love & Misunderstanding at the Museum of Modern Art (MoMA). The event, which benefited The Women's Media Center, held its post-screening bash at the Royalton Hotel in Midtown. The party didn't take a cue from the film's hippie-vibe, but who needs bohemian when there's champagne and sliders to guzzle! Along with Fonda and Keener, fellow cast members Jeffrey Dean Morgan, Chace Crawford, NatWolff, Marissa O'Donnell and Maddie Corman joined in for the party hosted by Forevermark and The Wall Street Journal.

Directed by Driving Miss Daisy director Bruce Beresford, the film, which had its world premiere at the Toronto International Film Festival last fall (followed by a U.S. debut at the Woodstock Film Festival - natch!) follows Manhattan lawyer Diane (Keener) who drives her teenage son Jake (Nat Wolff) and adult daughter Zoe (Elizabeth Olsen) to visit their Woodstock-bound hippie grandmother Grace (Fonda), who the kids have never met. Grace stages protests, smokes and sells dope, but their weekend getaway morphs into a summer adventure of romance, music and more.
"It was amazing to have such veteran actors like Jane Fonda and Catherine Keener working alongside newcomers [at the time] Nat Wolff and Elizabeth Olsen," Peace producer Claude Dal Farra told ML. "This was actually the first movie-set for Elizabeth and Nat."
Others at the party Monday included Robin Morgan, GloriaSteinem, Carol Alt, Ashleigh Banfield, Joshua Bell, Jewelle Bickford, Sandy Brant, Julie Burton, Ron Claiborne, Jamie Colby, Alan Cox (The Dictator), Rebecca Dayan (Celeste & Jesse Forever), Aleksa Palladino (Boardwalk Empire), Savanna Wise (Smash) and Casper Zafer (The Vampire Diaries).
IFC Films will open Peace, Love & Misunderstanding beginning this Friday.
[Photo credit: Amanda Schwab/Starpix]