The Avengers Sink Battleship at the Box Office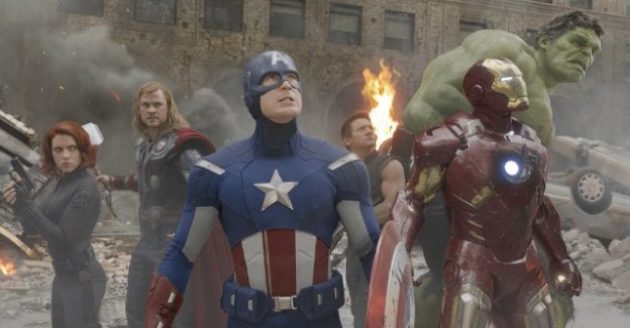 Another Monday morning, and thus another look at what carnage The Avengers has wrought at the weekend box office. And while things aren't as bad as they may look at first for Battleship and the rest of the competition, they're not what you'd call pretty. Your Weekend Receipts are here.

1. The Avengers
Gross: $55,057,000 ($457,078,000)
Screens: 4,249 (PSA $12,958)
Weeks: 3 (Change: -46.6%)
Marvel's megahit settled into No. 10 all-time in terms of domestic gross, No. 6 all-time in terms of global gross, and became the highest-grossing US release ever for Disney... in three weeks. It should wind up in top three in all the major box-office categories by the time it's done, leaving unanswered only the question of where it will stand two months from now against The Dark Knight Rises. Which I'm sure is a question you are very much preoccupying yourself with. Anyway, hats off to all.
2. Battleship
Gross: $25,300,000 (new)
Screens: 3,690 (PSA: $6,856)
Weeks: 1
Did Hasbro and Universal want a better domestic turnout for their huge-budget board-game spectacular? Of course they did. Is this the worst-case scenario for either/or/both? Hardly, especially after a foreign run that has already pulled in $215 million. John Carter it's not, though don't be surprised if you happen to see at least one head rolling around the studio lot sometime in the next or two. Whose will it be? Place your wager in the comments!
3. The Dictator
Gross: $17,415,000 ($24,456,000)
Screens: 3,008 (PSA $5,790)
Weeks: 1
On the one hand, not a terrible showing on a congested weekend for an R-rated comedy full of Sacha Baron Cohen's usual shtick. On the other, shtick aside, we finally get an original script not based on a board-game, a self-help book, a '60s TV show, etc., and it lurches quietly into third place. I feel like we need to support these things on principle, folks. So what if you only laugh four times in 80 minutes? It's better than throwing up in your mouth four times or renouncing moviegoing altogether, no? OK, don't answer that.
4. Dark Shadows
Gross: $12,770,000 ($50,908,000)
Screens: 3,755 (PSA $3,401)
Weeks: 2 (Change: -57.0%)
Oy: A 57 percent drop in week two for a Johnny Depp film — his worst since Pirates of the Caribbean: At World's End plunged 61.5 percent in 2007. Of course, that was after a $139 million Memorial Day opening, so... yeah. Perspective. Not good.
5. What to Expect When You're Expecting
Gross: $10,500,000 (new)
Screens: 3,021 (PSA: $3,476)
Weeks: 1
Yikes! And the reviews were so good, too.
[Figures via Box Office Mojo]
Follow S.T. VanAirsdale on Twitter.
Follow Movieline on Twitter.