REVIEW: Hysteria, a Sort-Of History of the Vibrator, Hums Along Cheerfully Enough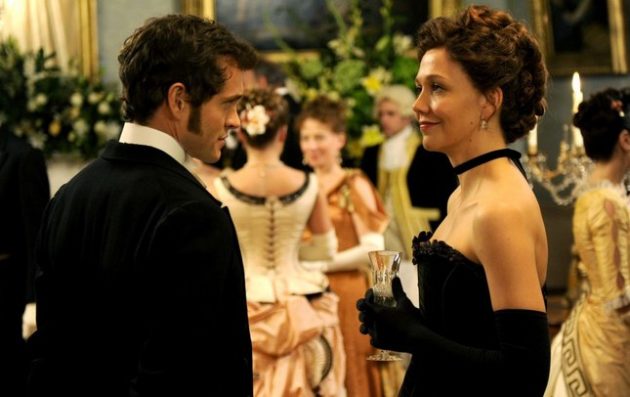 Anyone who's ever seen or used a rabbit vibrator can attest to the device's utter adorableness as a totem. Whoever designed this miraculous pink rubbery thing, with its Peter Cottontail-worthy quivering ears, probably thought, Why does a vibrator have to be ugly? Why not make it cute? Tanya Wexler may have had the same idea when she was making Hysteria, a romantic comedy and highly fictionalized history of the vibrator. The picture is, in places, too adorable for words, and when it's not adorable, it suffers from an excess of neo-suffragette preachiness. But the picture is at least spirited, a jaunty trifle that's low on eroticism but high on cartoony coquettishness. Like the little motorized whatsit that is its subject, it does have its charms.

The picture is set in Victorian London, a time and place where the women's ailment known as hysteria — caused, allegedly, by an overactive uterus — was treated by some rather, um, direct and interesting methods. (According to the movie, they involve two kinds of oil and a doctor's fingers.) Hugh Dancy plays Mortimer Granville, a physician who, unlike his whiskery colleagues, keeps up with all the latest developments in modern medicine — he's hip to the idea of germs while all the other docs are still hung up on leeches. Because of his radical beliefs in these invisible microscopic destroyers, no hospital will have him, and he feels lucky to land a job in the office of one Dr. Robert Dalrymple (Jonathan Pryce), who specializes in de-overactivating the uteruses of his patients. "It's the plague of our time!" he tells his young colleague. "Half the women in London are afflicted!"
Only half? Anyway, many of the afflicted make their way to the good doctor's office, including an opera singer who's too sad to sing (Kim Criswell) and a minxlike sexagenarian (Georgie Glen), all clamoring for treatment. In fact, handsome young Dr. Granville attracts so many new patients that he begins suffering desperately from hand cramps. Luckily, his closest friend, a layabout aristocrat played by a marvelously louche Rupert Everett, has invented an electric feather duster that, with a few tweaks, actually serves as a handy hysteria treatment device. The thing catches on like wildfire, and everybody's happy.
Well, not quite. There's plenty of trouble in Dr. Granville's paradise, mostly in the love department: He thinks he's attracted to Dr. Dalrymple's brainy but meek daughter Emily (Felicity Jones), but his real match is her sister, headstrong Charlotte (Maggie Gyllenhaal), who works with the poor and has some very progressive ideas about the equality of women, which she spouts freely at every turn. The script, by Stephen and Jonah Lisa Dyer, give Charlotte's ideas free rein, and enough is enough already. Their grinding insistence only weighs the movie down, preventing it from getting on with the business of getting it on.
But Wexler — director of two previous features, Ball in the House and Finding North — strives to keep things buoyant, and her efforts mostly pay off. Gyllenhaal's presence helps — with that bright, expressive, acorn-shaped face, she carries on valiantly, despite the pedantic nature of the material. The movie's offhand moments are the most fun, as when the two doctors, plus Everett, try the device on their first patient: They put a drape across her legs and don swimming goggles, peering expectantly into the abyss before — huzzah! — achieving victory. Hysteria is most delightful when it slips into its naughtiest groove and just purrs.
Editor's note: Portions of this review appeared earlier, in a different form, in Stephanie Zacharek's Toronto Film Festival coverage.
Follow Stephanie Zacharek on Twitter.
Follow Movieline on Twitter.