REVIEW: Amiable Cast Makes The Best Exotic Marigold Hotel Worth a Visit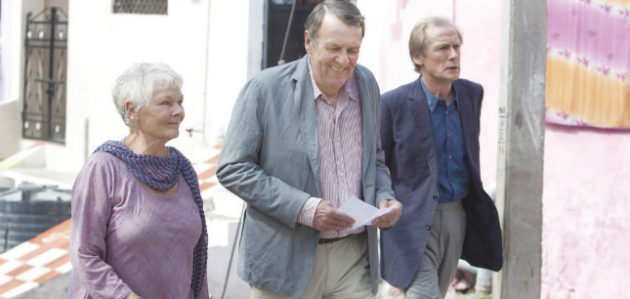 As mild, comforting and vaguely colonial as beans on toast, The Best Exotic Marigold Hotel brings together some of Britain's top-shelf acting treasures for a story of late-life awakenings and self-discovery in India. Directed by John Madden (of Shakespeare in Love and, more recently, The Debt), the film is, underneath its surface of warm fuzzies, a precision instrument aimed directly at the heart of its intended, underserved older audience.

As predictable a path as it follows, it delivers exactly what it sets out to -- a feel-good tale with equal portions of romance, tempered melancholy, transformation and low-key fish-out-of-water humor. And if the mechanics at work here are more than obvious, they're also a fair price to pay for getting to see Bill Nighy joke with Judi Dench about his inability to fix a telephone, Maggie Smith force down local food in order to be polite, Tom Wilkinson join in a game of pickup cricket and Penelope Wilton look terrified during a tuk-tuk ride.
The seven retirees in the main ensemble end up in Jaipur, enticed by marketing materials for a hotel "for the elderly and beautiful" that turn out to be more aspirational than actual. The place is run-down, some of the rooms don't have doors and others have been taken over by wildlife -- the manager Sonny (an aggressively animated Dev Patel) has unquashable enthusiasm but not particular skill for running a place or raising money to make much-needed fixes. Fortunately for him, most of his guests can't afford to leave -- they've outsourced their retirement to India rather than face living the rest of their lives tucked away or lauded as if they had already died.
Housewife Evelyn (Dench) is there because the husband she always trusted to take care of things has passed away and left her in debt, forcing her to sell the apartment in which they lived. Douglas (Nighy) and his wife of almost 40 years Jean (Penelope Wilton) invested their savings in their daughter's internet startup (the mystery of the online world to these characters is a recurring joke) -- she's been unable to pay them back, forcing them to either move to a depressing senior citizens community or out of the country entirely. Madge (Celia Imrie) and Norman (Ronald Pickup) are looking for love or, barring that, to get laid -- they're both anxious to prove to themselves that that part of their lives isn't over. Muriel (Maggie Smith) is a former housekeeper who's reluctantly left England in order to avoid a long wait for a hip replacement surgery. And Tom Wilkinson is Graham, a high court judge who's gay ("nowadays more in theory than in practice," he explains) and has returned to the place in which he grew up to track down his first love.
Add to this Sonny's attempts to date call-center worker Sunaina (Tena Desae) despite his mother's (Lillete Dubey) desire to arrange his marriage to someone else and have him give up the hotel, and you have enough plot threads to easily carry the film through its unhurried two-hour runtime. And most of them work -- Nighy and Dench are especially luminous playing explorers of the city who fall in love with India and with the renewed sense of possibility in their lives, their reserve giving way to tentative but genuine joy and an unexpected connection. Wilkinson is so disarmingly self-deprecating as Graham that it takes a while to realize that the confessions he's making to his new friends are the most open he's been in his life. Smith operates with the same glorious crabbiness she's perfected in her recent roles, though the film's attempt to treat her first as adorably racist and then as a uniting figure thanks to her transformative friendship with a maid is impossible to swallow even with her enjoyable performance.
The Best Exotic Marigold Hotel portrays the city in which it's set as chaotic, colorful and lively, but also ultimately a backdrop -- this is not a film about India, it's one about growing old in a terribly British fashion. "Can we be blamed for feeling that we are too old to change?" Evelyn muses in one of her blog posts that in voiceover periodically mark the story. While we in the audience have always known that's not the case -- that's why we're watching the film -- the pleasure is in watching the characters on screen realize the fact themselves, to their delight.
Follow Alison Willmore on Twitter.
Follow Movieline on Twitter.