Let's Name the New Slap Shot Hometown Hockey Team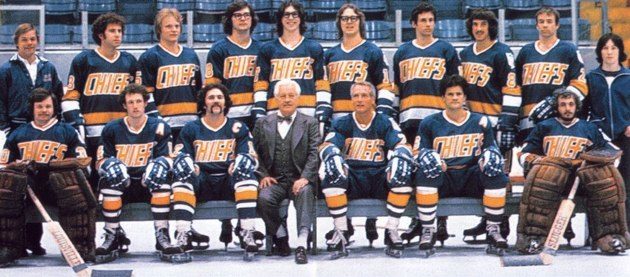 As if the stakes weren't high enough already among hockey fans enjoying the ongoing and roundly extraordinary Stanley Cup Playoffs, an institution born from arguably the greatest sports film ever made now requires their immediate attention: The good people of Johnstown, Penn. — which served as the inspiration and location for the 1977 classic Slap Shot — have a new hockey team. What they don't have is a name. Let's help them out.

The North American Hockey League team formerly known as the Alaska Avalanche will commence play next season in Johnstown, whose erstwhile Jets franchise provided the template for Paul Newman's bruising Charlestown Chiefs in Slap Shot. According to a local news report, however, neither the Jets nor the Chiefs are available options (the former is already a team; the latter's rights belong to another league), thus giving owners less than a week to settle on a new name for their team.
EW sort of has the right idea with the Hansons, a fairly obvious choice based on the legendary sibling goons from the movie (themselves based on and played in part by the Jets' own Carlson brothers). But... yeah. The Johnstown Hansons? No. Why don't we just luxuriate in some NSFW Slap Shot genius and let the brainstorm wash over us:
The Johnstown Quarter-Getters? The Johnstown Fuckin' Toys? The Johnstown Onanists? Or... Oh, that's it:
The Johnstown Finer Points. Bam. OK, I've got nothing. Fire away! America's team needs you!
[Johnstown Tribune-Democrat via EW]