REVIEW: Murky 3-D Can't Sink Spirited Pirates! Band of Misfits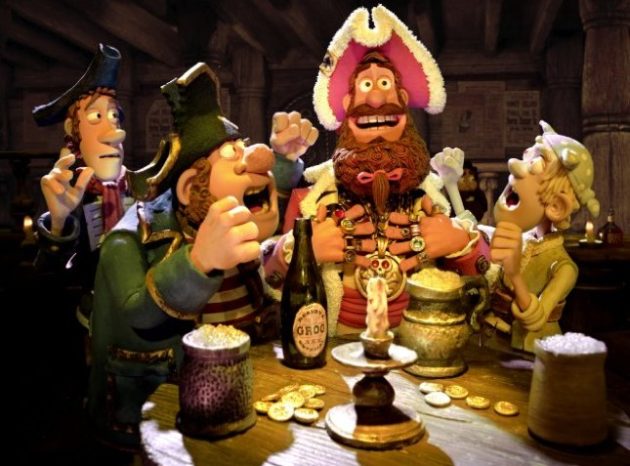 The latest feature to emerge from Britain's Aardman Productions workshop, The Pirates! Band of Misfits, succeeds in spite of a faint but persistent sense of factory settings and finishes. Following their partnership with Sony Animation for last year's computer animated Arthur Christmas, Aardman (whose co-founder, Peter Lord, directs here, along with Jeff Newitt) has returned to the stop-motion claymation that helped build the company name. It's a strange thing, knowing that a movie was literally handmade and still feeling it is vulnerable to the glaze of mass-farmed entertainment.

The story, adapted from the first two installments of a children's serial by Gideon Defoe (who also wrote the screenplay), is the first source of this feeling. It's 1837, and we meet the garrulous Pirate Captain (Hugh Grant, dining on his dialogue with impeccable form) as he resolves to enter an annual Pirate of the Year contest somewhere in the West Indies. Pirate Captain leads a ship of holy fools, each one sillier and more plainly named than the next. There is The Albino Pirate (Anton Yelchin), The Pirate with Gout (Brendan Gleeson), and The Pirate with a Scarf (Martin Freeman), among others. Pirate Captain's rivals are announced with fanfare: Black Bellamy (Jeremy Piven), the brash American, Cutlass Liz (Salma Hayek), the Jamaican cutthroat, and Peg Leg Hastings (Lenny Henry), the... peg legged one.
It's all rather casual — not unengaging, exactly, but lacking a narrative energy all its own. Flashy introductions are made, but the set-up feels like that of a franchise coasting through its third or fourth installment. Pirate Captain cuts an inglorious figure—he lacks looting and pillaging chops but desperately seeks the validation of his co-pirates, who see him as something of a tragic clown. The Pirate with a Scarf plays ego-fluffer, insisting that real piracy isn't about winning trophies, it's about swashbuckling adventures and glossy beards. And Pirate Captain is certainly blessed with the latter: His facial hair is much discussed and much deployed, for good reason — it forms a perfectly sculpted pelt, with curls like browned fiddleheads.
Much of Pirates! is as beautifully made, but you wouldn't know it to look through the murkifying lens of 3-D glasses. About halfway through, around the time Pirate Captain attacks a ship carrying Charles Darwin (David Tennant) and is informed that his beloved parrot is actually a rare dodo bird, I slipped the glasses down my nose. Like many animated films with 3-D packaging, plenty of Pirates! doesn't use the technology to much discernable effect. What you notice, then, is the way the animator's work comes to life — begins to gleam, even — without the darkening of the glasses. I watched as much as I could of the rest of the movie this way, and began to resent the shots where the effects were central, forcing a reversion to three dimensions. In this case the depth of the actual fields involved in making the film are not worth what they cost in the color and texture of the clay figurines.
As the images begin to feel drained of their luster, the story starts to spark with more of Aardman's antic spirit. Devout monarchists will want to skip the part where Queen Victoria (Imelda Staunton), with whom poor Darwin is painfully besotted, goes into martial mode to acquire the dodo bird Pirate Captain is lured into presenting to a scientific conference in London. A deadpan monkey whom Darwin has trained to speak with cue cards is a clever touch, and Grant and his inspired line deliveries only get better as Pirate Captain sells his soul for a bit of glory and then faces off with a Queen who runs a rare animals eating club and hates pirates for being so sentimental and passé. The sight of Queen Vicky slashing and burning in her bloomers in the set-piece finale make you wonder what might have happened had the movie not felt obliged to dull its shine for anyone's sake.
Follow Michelle Orange on Twitter.
Follow Movieline on Twitter.