Biz Break: Harvey's Party, Dafoe's Furnace, Ridley's Retrospective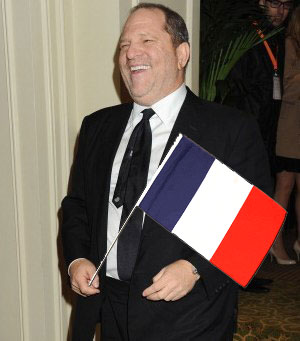 Welcome to Biz Break, Movieline's inaugural roundup of film news that comes our way and other highlights from publications worldwide. Among today's stories: Harvey Weinstein will celebrate his Legion of Honor award in New York, Willem Dafoe lands a role in an upcoming thriller, Ridley Scott gets a career retrospective, and more...

Movieline Tidbits
Harvey to Party for Légion d'Honneur Award in NYC
Last month, French president Nicolas Sarkozy bestowed France's Légion d'Honneur award on TWC's Harvey Weinstein. The celebration continues next week in NYC: Friends and family of Weinstein will join together at the French Embassy of the United States in New York City on Monday, April 30 to celebrate at a reception hosted by the French embassy. At the reception, a "special guest" will read a letter from President Sarkozy to Weinstein before the crowd. Prior to the reception at the French Embassy, there will be a private screening of The Intouchables at the Paley Center for Media's Bennack Theatre. The film will be released in the U.S. May 25th.
Dafoe to Join Thriller Out of the Furnace
Relativity Media has closed a deal with two-time Oscar-nominee Willem Dafoe to join the cast of its gritty dramatic thriller currently titled Out of the Furnace. Dafoe who will play John Petty, joins the previously announced award-winning cast including Oscar-winner Christian Bale, Oscar-nominated Casey Affleck, Zoe Saldana (Avatar), Oscar-nominated Sam Shepard (The Right Stuff), Oscar-nominated Woody Harrelson and Oscar-winner Forest Whitaker. The film, which started shooting on April 13th on location in Braddock, Pennsylvania, is written and directed by Scott Cooper (Crazy Heart).
Film Society Readies Ridley Scott Retrospective
The Film Society of Lincoln Center will host a complete retrospective of three-time Oscar-nominee Ridley Scott, whose career began in the 70s. The retrospective will run from May 25 - June 3 and will include the Director's cut of Kingdom of Heaven, a new 35mm print of Thelma & Louise and the chance for fans to catch all of their favorites on the big screen.
Carlos Diegues to Lead Cannes Camera d'Or Jury
The Brazilian filmmaker Carlos Diegues will be joined by Italian journalist Gloria Satta, Rémy Chevrin of the French Association of Film Cinematographers, Hervé Icovic of the Federation of Cinema Audiovisual and Multimedia Industries, Michel Andrieu of the Society of Film Directors and Francis Gavelle for the French Union of Film Critics. Launched in 1978, The Camera d'Or is awarded to the best first film presented in the Official Selection (Competition, Out of Competition and Un Certain Regard), La Semaine de la Critique or Directors' Fortnight – a total of 22 films in 2012. Diegues will present the prize on Sunday, May 27.
Blondie to Close Toronto's Inside Out
Inside Out is pleased to announce that Bye Bye Blondie, from director Virginie Despentes (Baise-Moi) and starring Emmanuelle Béart and Béatrice Dalle, will make its North American premiere as the Closing Night Gala Presentation at the 22nd annual LGBT Film Festival. The film will close the 11-day festival showcasing 45 feature films and 75 short films from around the world.
And from around the 'net…
King Courts Queen
Academy Award-winning producer Graham King confirms that Sacha Baron Cohen will play Queen frontman Freddie Mercury. "We haven't closed the deal yet, but I want him to do it and so does he, and he's the one who actually brought the project to me while we were shooting Hugo," he says. Variety reports.
Daniel Craig set for quick return to Bond
Bond 24 is already in the works with a 2014 release date As Bond fansite MI6 points out, Bond 24 will be the last film Daniel Craig is contracted to star in. But he will be offered first refusal on the fourth outing, and with the time gap so brief, it's unlikely the studio would be eager to hire another man to step into his briefs, The Guardian reports.
Jack White to Compose Score for Johnny Depp's The Lone Ranger
Disney taps the Grammy-winning musician to produce the soundtrack for the film adaptation. Gore Verbinski is directing the movie which will feature Depp as Tonto and Armie Hammer as John Reid, according to The Hollywood Reporter.
Hurt Locker Actor to Star in Indie Kilimanjaro
The Hurt Locker star Brian Geraghty will star in indie film titled Kilimanjaro, by writer director Walter Strafford, according to The Hollywood Reporter. The story centers on a man (Geraghty) who is determined to climb Mt. Kilimanjaro after a recent breakup. The movie will shoot mid-May in New York.
Sony Buys Action-Comedy Spec El Tigre
Sony has won a three-way bidding war for action-comedy spec El Tigre by first-time screenwriters Aaron Buchsbaum and Teddy Riley. Sale was for mid-six figures after bidding among Sony, Paramount and MGM, Deadline reports.
Redford Gushes over Charles' Green Agenda
American Hollywood royalty teamed up with British royalty as Robert Redford appeared in London to promote a documentary on Prince Charles' latest environmental projects. Redford praised the heir to the British throne, speaking Thursday at the launch of the first-ever Sundance film and music festival. He says Charles "has been committed for a long time, which I greatly admire, to sustainability and environmental conservation" and said working together "seemed like a natural fit," Yahoo reports.