Music-Killing Cable Channel Announces New Award For Best Movie Music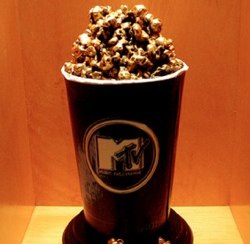 From the people who brought you 16 & Pregnant, Date My Mom, A Shot at Love With Tila Tequila and Jersey Shore where once you found proud, pioneering music videos roaming free on the TV plains: Five new categories for this year's MTV Movie Awards! Including "Best Music"! This should turn out great. And there's more.

From the official MTV press release just over the transom, which doesn't even read like English after a while:
"The Movie Awards will be a re-imagined celebration of the most popular films and performances from the past year," said Stephen Friedman, President of MTV. "This year, we've overhauled categories and added a Breakthrough Performance award that will be chosen by some of the best directors in the world. We're also making music a more central experience to the overall show creative, and are thrilled to announce fun. – a band that has already imprinted a new anthem on a generation – as our first musical moment."

Once again, MTV fans will hold the "Power of the Popcorn" awards in their hands. This year's brand new "Best Music" category will allow fans to vote for a specific movie moment when the perfect song played during the perfect scene.

In returning category favorites like "Movie of the Year," will the final installment of Harry Potter bring home the crown or will the record-shattering The Hunger Games shake things up? Last year, Emma Stone took home the prize for "Best Comedic Performance" but could she receive a nomination for "Best Female Performance" for her role in The Help? One thing is for certain, it's Hollywood's wildest awards ceremony and anything can happen.

Categories for the "2012 MTV Movie Awards" include:

"Movie of the Year"
"Best Female Performance"
"Best Male Performance"
"Breakthrough Performance"
"Best Comedic Performance"
"Best Music"*
"Best On-Screen Transformation"*
"Best Gut-Wrenching Performance"*
"Best Kiss"
"Best Fight"
"Best Cast"*
"Best On-Screen Dirt Bag"*

* New category

The "2012 MTV Movie Awards" nominees will be elected by a special voting Academy, including members of the MTV audience. In addition, the winner of "Breakthrough Performance" will be decided on solely by a special Academy of Directors who will lend their expertise for spotting and developing new talent.
What could go wrong, etc. etc. Find out June 3!
[MTV]