Tribeca 2012: Emily Blunt Digs Into Her Past for Your Sister's Sister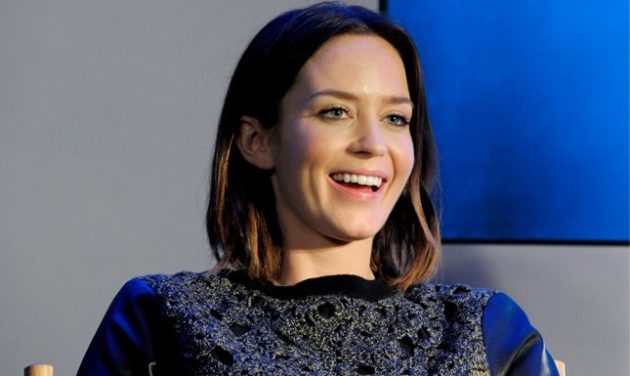 British actress Emily Blunt has traveled both the studio and indie route during her career, most recently appearing in Lasse Hallström's specialty feature Salmon Fishing in the Yemen and starring this week opposite Jason Segel in Universal's romantic comedy The Five-Year Engagement. Meanwhile, another project Blunt is promoting in New York, writer-director Lynn Shelton's Your Sister's Sister, joined Engagement as part of this year's Tribeca Film Festival, still underway in Manhattan. The smaller of her two Tribeca titles, Sister proved something of career déjà vu for Blunt, who told an Apple Store audience that her experience working on the feature reminded her of her very first film feature role.

"The whole time I was shooting my first film My Summer of Love [2004], I was terrified because it was all improvised," Blunt said at the event, co-hosted this past weekend by Indiewire. "I hadn't worked that way in years, so I was [eager] to do it again. It's daunting, but I was excited."
Your Sister's Sisterco-stars Blunt as Iris, who sends her good friend Jack (Mark Duplass) to her family's island following the death of his brother. After he arrives at the island getaway, he has a surprising encounter with Iris's sister Hannah (Rosemarie DeWitt), which unleashes a revealing stretch of antics over the course of several days. While the film is intended to be dramatic, comedic elements surface even in surprising ways for the actors. "I almost felt sorry for my character because when I was playing her, I was thinking very seriously," said DeWitt, commenting on audience laughter during some scenes with her character. "But I think that when people laugh, they're seeing themselves in the character," Blunt added.
Filming Your Sister's Sister, Shelton worked with Blunt, DeWitt and Duplass as collaborators, in a working style she calls "collaborative and improvisational" — reminiscent of Shelton's more recent feature Humpday (which also starred Duplass) and her debut feature We Go Way Back (2006). "I like to attach the actors first and then get the script together," Shelton said. "The studio way is to have a script first, then you get the actors." Shelton added that her methodology for making a film is akin to a playdate: "My way is to get friends together and say, 'Let's make a film this summer.' It's hard to do that with the studio system."
Shelton will next put her approach to the test with her upcoming — and comparatively larger-budgeted — Touchy Feely. The film will have a 20-day shoot boasting an ensemble cast (including DeWitt and Ellen Page) and many story lines, a departure from the more streamlined plot in Sister. "I've made five features in my cheap way, so I think I deserve this," Shelton said.
As for Blunt, the rising star will continue to promote The Five-Year Engagement, in which she stars opposite Segel as a bride-to-be chasing a fleeting wedding day, and has a number of other projects waiting in the wings. "I love the variety and choices out there," said Blunt. "I want to do all things. As an actor, you want to have a bag of tricks that you never get to the bottom of."
Your Sister's Sister opens June 15 in limited release from IFC Films.
Read all of Movieline's Tribeca 2012 coverage here.
[Top photo: Getty Images; middle photo of (L-R) Blunt, DeWett, and Shelton: Movieline]