Morgan Spurlock on His New Doc Mansome — and the Star Who Could Stand to Tweeze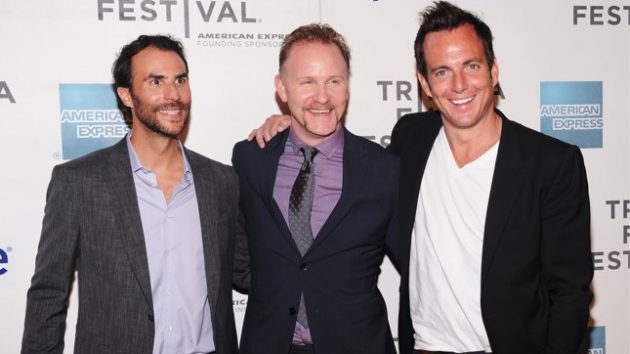 Gone are the days of callouses and carpenter pants. Today, men are rocking skinny jeans and moccasins as they treat themselves to spa days, having no shame in getting waxed, tweezed, manicured and/or exposed to other meticulous grooming techniques. This ongoing — and slightly horrifying — "manscaping" trend is spreading throughout America and beyond, and Morgan Spurlock (along with executive producers Ben Silverman, Will Arnett and Jason Bateman) captured it all in their world premiere Tribeca documentary, Mansome.

The film highlights everything from elite beardsmen (yes, it's a sport) to wrestlers' full-body shaving, but mostly focuses on candid interviews with some familiar Hollywood men. Movieline caught up with director Spurlock at the film's premiere over the weekend, chatting about everything from the ongoing "manocolypse" to the Oscar-nominee's top five manscaping tips.
When you think of the manscaping trend, who comes to mind in Hollywood?
Zach Galifianakis! That's why we called him first.
How much grooming does he do?
None — that's why he was perfect. You think of someone like a David Beckham, you know; you think of somebody like that. We immediately thought of Scott Ian from Anthrax because he's been shaving around that crazy beard his whole life, and he's one of the first people I called. You think of like these kind of perfect-looking actors and actresses, many of which wouldn't talk to us, simply because they didn't want to get into it.
In reference to some of those guys, do you think that kind of seal look is good for anyone?
Well, it seems to be good for Seal, I don't know — it seems to work out! I feel like if you're going to commit yourself, like really going for it, then you might as well go for it. I'm not quite that guy.
I wasn't even talking about Seal the musician — I was talking about a seal, like the body slickness of a fully-waxed man...
Oh, like when they seal it all in? No, that's not for me.
What was the most exciting part about working with this group of men? Had you ever worked with them before?
I had never worked with Will or Jason; I'd never worked with any of the guys in the film. I had met a lot of them and had said that I'd love to work with them sometime. When we called Zach for the film, he jumped at the chance. He said "Absolutely — come meet me at my place in North Carolina!" And he was great. I've been such a fan of Judd Apatow for so long, and Paul Rudd, so to have those guys to come in was great. And the characters that we follow in the film — Jack Passion, Shawn Daivari, Ricky [Manchanda] — to have these guys open their lives to us, to let us kind of follow them through these like manscaping rituals, you gotta be a brave guy; you gotta be really courageous to kind of open yourself up like that. I think we had really cool, courageous guys who realized that we were going to make a fun, funny film.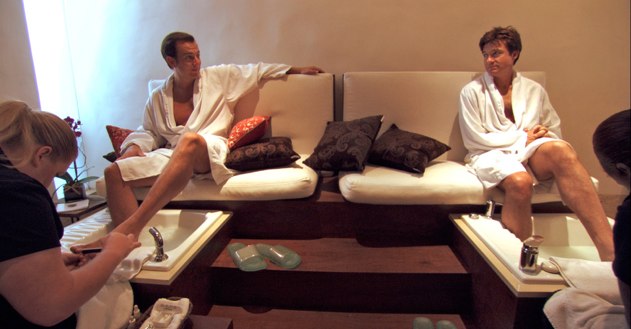 Why do you think now was the right time to make this movie?
You know, we're in the midst of a manocolypse! We gotta help figure out what we need to do to help define masculinity today!
What do you think are the top five things in the manscaping world?
Well, there's a lot of waxing; a lot of hairy guys waxing is a big one. Grooming is also a big one — making sure you shave your face or cut your hair. There's a lot of guys with big caterpillar eyebrows...
Peter Gallagher?
Peter Gallagher may want to take a little something to the middle of that; it's okay to do that these days. You don't want to have the unibrow — not so en vogue anymore. I think you don't want to have a bunch of grimey fingernails; I don't ever want to see a guy with big, dirty fingernails. Unless you're like a coal miner or you're digging a ditch somewhere and that's your job — like "I dig ditches" or "I dig mud all day! That's what I do." — you can't just go around all day with scrub in there.
Do you think women are more attracted to men that manscape?
I think that what attracts you initially is how you look. I think ultimately you are attracted to someone at first because of "X," no matter what it is; there's something about those pheromones that they're sending out, and you want them, for whatever reason that is. And then you start to understand who they are and what they're about, and you continue to stay attracted to them once you peel back the layers. But I do think that we are a judgmental society, and you want to be attracted to them first. But then once you start to talk to them, then you realize, "Wow, you are a completely terrible, shallow person. I don't want to be around you anymore." And then you realize that what really matters is all the stuff that's in here. [Points to head] All the pretty people that I've gone out with aren't the pretty people that I've stayed with; I've usually stayed with people that have much more to offer from the inside.
Is that the advice that you're going to give to your son?
I'm going to tell my son, "Marry the most ugly woman that you can — she's going to be the best to you of all time."
Read all of Movieline's Tribeca 2012 coverage here.
Alyse Whitney is a New York-based writer, currently with TVLine.com. Her work has been featured in Bon Appétit and a handful of other publications, and you can also find her on Twitter.
[Top photo: WireImage]