The Hole Story: After 13 Years, Courtney Love and Crew Reunite For Hit So Hard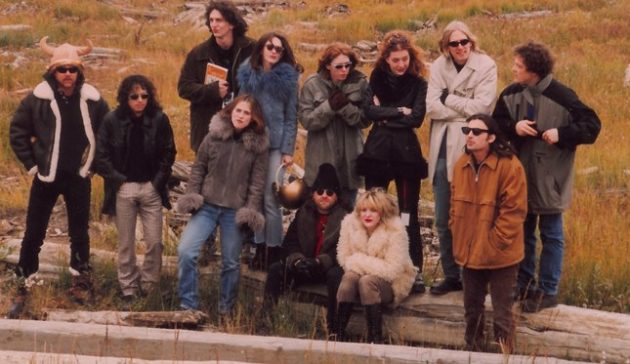 With today's theatrical opening of the documentary Hit So Hard, Movieline is pleased to revisit its coverage from the film's New York festival premiere on March 28, 2011. — Ed.
Courtney Love shrugged. "We've been in lots of rooms together," she said to a packed theater of moviegoers at the Museum of Modern Art, where Hit So Hard, a documentary about her band Hole (and, more specifically, drummer/addict/survivor Patty Schemel) had its New York premiere Monday night. The crowd laughed, steeped in nostalgia and recognition -- not that Love was talking about this room or this crowd.
Love was talking about the members of Hole themselves -- herself, Schemel, guitarist Eric Erlandson and bassist Melissa auf der Mar, reunited for the New Directors/New Films festival screening. Hit So Hard's director, P. David Ebersole, had earlier repeated the fest's talking point about the event being the first time all four had been "in the same room" in 13 years, and many of the evening's attendees -- casual viewers and die-hard Hole fans alike, many dressed in faded black merch-table artifacts from Hole's 1997 Celebrity Skin tour -- had been drawn in for the express purpose of seeing what drama might transpire. How would the quartet respond to the home-movie evidence of debauchery, chaos and self-destruction? How would the erstwhile intimacy and contemporary candor reflect on the band members and their work? Would Courtney Love even bother to show up?
Indeed she would, because ultimately Hit So Hard isn't a rock exposé so much as a tale of one musician's -- and in Hole's case, one friend's -- biosphere of dependency. "I'm just emotionally in shock because I hadn't seen the film," auf der Mar said afterward. "And it almost seems silly that we're up here at all, because it's really not about a band called Hole at all. It's entirely about Patty. The only reason I came to this movie theater is because Patty Schemel is alive."
Hit So Hard links one milestone of Schemel's survival to another with a caustic grace lent by the subject herself: Alcoholic at age 12. Out, tormented lesbian at 17. Junkie by her early 20s. On and off the wagon numerous times by her late 20s. A homeless, crack-addicted, prostituting music-industry exile by the end of the '90s. It's all there in the open, backed up with fascinating, never-before-seen archival footage featuring Love and her husband Kurt Cobain, the Nirvana founder whose home Schemel shared early in her relationship with Hole. The tapes showcase both the squalor and tenderness in which the Cobains nurtured their daughter Frances Bean, and in which this cohort, for better or worse, nurtured an epoch eventually known as grunge.
"I had all this footage together -- this was about six years ago," Schemel told the audience afterward, describing Hit So Hard's woolly origins. "It was all stuffed away in a closet. And a friend said, 'Really, you should digitize all of it, because it's going to disintegrate.' And so I went to David and I asked him, 'How do I do that? I don't know how to do that.' He explained it, and I was like, 'Can you just do it?'"
As she and Ebersole logged the videos, she recounted the context and background around each. Soon, she said, the filmmaker saw a pattern.
"He said, 'There's a really great story here -- you should do something with it,'" Schemel explained. "And I said, 'OK.' Then I thought about it and went back to him and said, 'Do you want to help me out with it?' And he said, 'Sure.' That's how it happened."
"We actually didn't even really know what the story was," Ebersole added. "Melissa was our first interview. And we said, 'Wow -- this story is complex, and there's a lot to it.' We sort of learned as we went."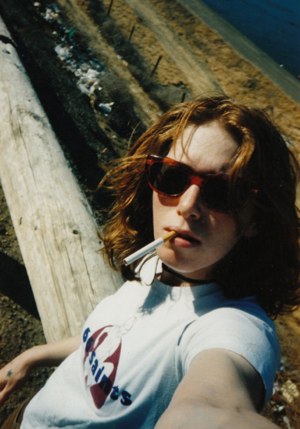 Kind of. Haunting as they can be, many of the revelations in Hit So Hard have the distinct limitation of being, well, Hole stories. If you're a fan, then this is the movie for you; never will you have a more definitive or authoritative glimpse of this band's trajectory from bruising glam-punk juggernaut to slick, corporate cheese-wank has-been. (To say nothing of the tragedy of Kristen Pfaff, the Hole bass player who OD'd on heroin shortly after Cobain's suicide and mere months before Hole's Live Through This world tour in 1994.) If you're not a fan, then while some of that rare aforementioned footage will catch your breath, let's be honest: Once you've seen one hotel-room bacchanal, or one live Love trainwreck, or one modern-day Love ramble while stuffing her face with shortbread cookies on-camera, you've pretty much seen them all.
In fairness, the Schemel/Love tag-team offers at least one devastating inquest regarding just how your major-label sausage is made, retelling the story of how producer Michael Beinhorn froze Schemel out of playing on Hole's 1997 album Celebrity Skin. Not that she didn't try: Hours and hours of attempted drum tracks -- recorded in one of Schemel's sober, healthier states, no less -- went in one Beinhorn ear and out the other before he brought in a session player to lay down Schemel's parts. In the end she didn't play a note on the album, an eventuality that helped propel Schemel back down the slide to rock bottom.
Courtney Love the interviewee defends the replacement in dollar terms, saying that fixing Schemel's tracks would have added $2 million to the budget of an album already costing $3.2 million. In person on Monday night, however, Love was a little more philosophical.
"Can I ask a question?" she said to Schemel. "You know, Mike Beinhorn, I just did a record with him, and he's still a Nazi. He took another drummer off. But do you think it's generational that we didn't know? I was watching this -- and we can talk about this later -- but I was wondering if it's the Gen X thing of, 'We're a band, we're a band...'
"I'd still have taken it hard," Schemel replied. "But I didn't really know that kind of stuff went on."
"I didn't either!" Love said. "I didn't either."
"I just think that we became so corporate," Schemel said.
"But that's what made the '90s special!" Erlandson joked from the other end of the stage.
"Isn't selling out when there are no more seats at Madison Square Garden?" Love said. "That's what [Green Day frontman] Billie Joe Armstrong says to me. And he's a punker!"
Whatever. While we can debate the efficacy of studio politics for years to come, the more pressing matter for the Hole fans on hand was when they'd see the band onstage again -- hopefully with their instruments. Love was vague on the subject, and hardly encouraging.
"I do wanna say that if something's not relevant, I don't wanna do it," she said. "So for me, as much as I love playing with Patty -- and I would play with her in five seconds again, and everyone onstage -- if it's not moving forward, I don't wanna do it. That's just my thing. There's rumblings; there's always bloody rumblings. But if it's not miserable and it's going forward and I'm happy with it... that's all I have to say about that question."
Follow S.T. VanAirsdale on Twitter.
Follow Movieline on Twitter.