Meet Guy Pearce, Action Hero: The Lockout Star Talks Cameo Roles, Prometheus, and Lawless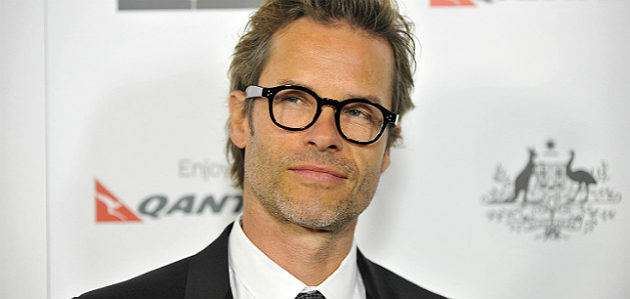 Not that role! You felt that way with The King's Speech?
I certainly feel like I did a reasonable job, but you just don't feel that emotional thing where you feel like you're flying with it. That's a terrible explanation, but… when you do a play or when you are on something for a long period of time, you settle in. You know it, you just know it. As opposed to going, 'I think it's this, I think it's that, filming, great, cut, next scene – I think it's this, I think it's that, cut, finished, wrap, you go home…' I never quite got to that stage when I was absorbed in it, do you know what I mean? I mean, I come from a theater background where we do a lot of rehearsal and in that rehearsal time I slowly put it all together. Whereas you start a movie and they go, 'Great. Rolling. Action!'
Actors often extol the virtues of television work for this reason because they can stay with and develop a character for months and months…
Absolutely! And look, you don't want it to go on for too long either, because it can become stale. But I think anything less than four weeks on a movie, it's hard to really feel connected, particularly if other people have been filming for a month before you get there. You pop in for two weeks and then you go and you go, 'Ah, sorry to intrude…'
How would you then apply this experience to something like Prometheus? We saw you in one of the first bits of marketing materials, the TED Talk from the future.
It's the same thing. And it's not that I would ever say no to a job because of that, it's just my little personal thing that goes on which I probably shouldn't even talk about. But it's up to me to really work harder, I think, at formulating a character prior to getting there if I'm only on something for a short period of time. I mean, to go and work with Ridley Scott on a film like Prometheus – you'd be crazy to say no. To go and work on The Hurt Locker with Kathryn Bigelow – you'd be crazy to say no. King's Speech, etc. So I've really been lucky and had some great opportunities and I feel very proud of them, but it's just a totally different experience.
It's interesting that it's almost more challenging in ways, to have a smaller part in a film.
It is more challenging! You know what it's like – you move into a new house and it takes you a while to kind of settle in. And to go and do something like Prometheus… it's obviously got a special history and Ridley is incredible and it was a great cast.
Did you have that same experience with Prometheus? Because looking at that TED Talk, you're just so confident…
Well, that's the character. [Smiling] I mean, Ridley was fantastic. You go and work on something like that and you know it's a big movie, you might have expectations about feeling distanced from your director, etc., because it is a big movie, and yet Ridley has a wonderful way of making it feel very intimate. He works like you're working on a small independent movie, it just happens to have a large scale entourage with it. I think he has a real adoration for actors and he loves getting out of actors what needs to be achieved.
Would you call yours a cameo role?
I don't know! Again, it's like defining a genre, where do you draw the line? Is it the amount of days you work that defines a cameo?
Probably moreso how much screen time you have in the film.
Well, no. It's probably not a cameo, it's a supporting role.
Another upcoming project of yours is Lawless, which reunites you with John Hillcoat after The Road and The Proposition, which I love…
So do I. It's definitely one of my favorite films. And I think John is one of those people who if he rang me up and said 'I need you to come to Alabama tomorrow, I can't tell you what it is,' I'd just get on the plane and go. He's a real artist and he also has a very encouraging side to him, which is great for me because I really like to develop and create a character myself. It's often better if it's inspired off a page but I'm often wanting to go to places that other directors might go, 'Hmm, not so sure, we'd rather your hair be the same as it was in that last movie you did.' And I find that really frustrating, whereas John's like, 'Yup, great!'
Other directors want more of the Guy Pearce that they've seen before in other movies?
Yeah. It's just being brave or not, and it's also about acknowledging your own instincts and being able to move with your own instincts as well rather than just trying to pigeonhole. So it all comes back to the same thing. I just don't want to be pigeonholed, I don't want to be stuck doing the same thing. I'm not interested in that, so if I ever go and have a meeting with somebody, for example, and I get that from them, then I know if I go and take on the job it's going to be a tough ask. Whereas John's very accommodating and he loves strange and unusual things. [Laughs] So the character I play in [Lawless] is really, really odd.
How so – how would you describe him?
I don't know how I would describe him. He's a cop from Chicago, but he has a very particular sense of self and real control issues. A certain level of vanity. On some level [he's the antagonist], but it's a complicated story and it's not as easy as that. He's brought in to try and stop these three brothers or at least force them to pay taxes from the money they're earning moonshining, but just in his personality, in his way, he has a particular, kind of strange quality about him.
Shia Labeouf, Tom Hardy, Jessica Chastain, and you – that's quite a cast.
It's an amazing cast. I mean, Jessica Chastain and Tom Hardy together? She's ridiculous, and Tom Hardy's extraordinary. Really, really extraordinary. And Shia was fantastic – and Mia Wasikowska! I'm not just saying this, people always say this about the people they work with, but those four together are really, really special. Shia's really extraordinary in the film and Tom just has a real Brando-like quality about him. I can't say enough about those four. Shia's love story with Mia is just so, so beautiful. He's like a puppy dog around her, it's fantastic.
Lockout is in theaters today.
Follow Jen Yamato on Twitter.
Follow Movieline on Twitter.
Pages: 1 2