Chris Evans Is Proud Of Just Three of His Films -- Which Ones?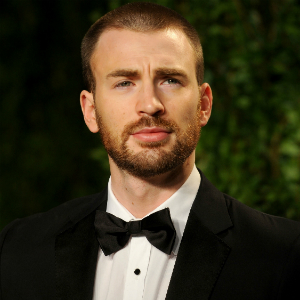 In a new interview at Prestige Hong Kong, Chris Evans, he of Fantastic Four and Captain America and the upcoming Avengers fame, admits that some -- okay, a lot -- of his films haven't been very good. In fact, he'll even give you a number: "I've made about 20 movies and I'm probably proud of three," he said, admitting that press tours do a number on his nerves because he's forced to put on a brave face to promote "piece[s] of shit." Aww, Chris. Fret not! You've got some solid movies under your belt! Let's name them and guess which trio of credits Evans is most proud of.

You've got to give Evans points for candor; even while he was promoting Captain America he acknowledged that it took a lot of convincing for him to take on the responsibility of a ginormous superhero franchise that could make or break his career. According to his Prestige chat, he sought help from a therapist to deal with the pressures of the gig even before filming, which might be when this revelation hit:
"I started to realise, I think the main reason I struggle so much in press, is because I'm usually promoting a piece of shit. It's really difficult to find a flowery way to tell people to go see this movie, that your face is all over, that your name is all over, that you're endorsing. And then you begin to feel like a liar, like you're transparent. You feel undeserving and it makes the interview extremely uncomfortable, for me at least.
But you know what? Sunshine, which he's said is a favorite of his, was great (well, until the end). Captain America earned far more critical acclaim than his previous superhero stint in the Fantastic Four films. And Evans lent a fantastic injection of mocking Hollywood swagger to his Lucas Lee in Scott Pilgrim vs. the World.
Hell, even Not Another Teen Movie was pretty funny, and launched Evans' career, and despite its mixed reviews, the indie drama Puncture, in which he played a drug-addicted lawyer, was a bold move. Granted, there have been many misfires -- 16 out of 19 of his films are "rotten" on Rotten Tomatoes -- but they're not all complete stinkers, are they? Surely he's proud of his work in more than just three? Take a look at Evans' full filmography and chime in.
The Newcomers (2000)
Not Another Teen Movie (2001)
The Perfect Score (2004)
Cellular (2004)
Fierce People (2005)
Fantastic Four (2005)
London (2005)
TMNT (2007)
Sunshine (2007)
Fantastic Four: Rise of the Silver Surfer (2007)
The Nanny Diaries (2007)
Battle for Terra (2007)
Street Kings (2008)
The Loss of a Teardrop Diamond (2008)
Push (2009)
The Losers (2010)
Scott Pilgrim vs. The World (2010)
Captain America (2011)
Puncture (2011)
What's Your Number? (2011)
[Prestige Hong Kong via Moviefone]