Memo to Hollywood: Don't Mess With Louis Vuitton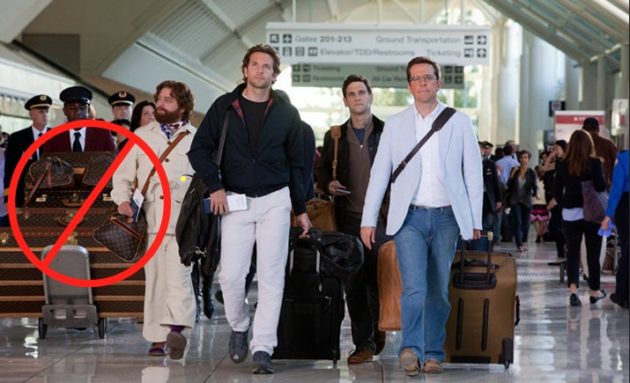 I hesitate to even pass along word of the luxury fashion purveyor's ongoing litigiousness lest this site land in its hungry crosshairs, but: Have you heard about the lengths to which Louis Vuitton is going to keep its brand safe from the grubby likes of The Hangover Part II? Or how another, recently resolved court victory has possibly shored up its case against the film's studio Warner Bros.? Memo to Hollywood: Either get your clearances up front or do not even think of messing with these guys.

This has been going on for a while, but THR Esq. now offers up the bone-chilling latest:
On March 22, a judge granted a summary judgment victory to Louis Vuitton over a Super Bowl TV commercial produced by Hyundai that featured for approximately one second a basketball that bore resemblance to a flower-like symbol on chestnut-brown background design that was trademarked by Louis Vuitton.

The French brand says that the judge's decision two weeks ago shows why it should be able to go forward with its claims against Warner Bros. for infringing and diluting its trademark by showing for one brief moment in [The Hangover Part II] Zach Galifianakis telling someone who pushes his bag, "Be careful, that is … that is a Lewis Vuitton."

In mid-March, Warner Bros. responded to the lawsuit by telling a New York judge that it had a First Amendment right to feature trademarks and incorporate real-life references to brands without getting the consent of owners. The studio added there wasn't any confusion, and if there was, it was de minimis and/or the responsibility of the company that had actually produced the knock-off handbag. [...]
Meanwhile, the designer isn't backing down, arguing in a court filing (with its victory versus Hyundai in mind) that "Louis Vuitton's 'aggressive' enforcement of its trademark rights and prompt action against those who misuse its trademarks are necessary concomitants of its exclusive rights in the brand." Fine, but to what end? Is "the brand" — and apparently its business — so fragile that millions of dollars in legal expenses are themselves necessary concomitants of relevancy in 2012? Or is this just the more socially permissible way of shoring up the market share that all those knock-off merchants in Lower Manhattan have eroded in recent years? Either way, to all you screenwriters and studio legal departments alike: Maybe stick to Samsonite?
[THR Esq.]
Follow S.T. VanAirsdale on Twitter.
Follow Movieline on Twitter.