Weekend Receipts: Hunger Games Makes it Three in a Row on Quiet Holiday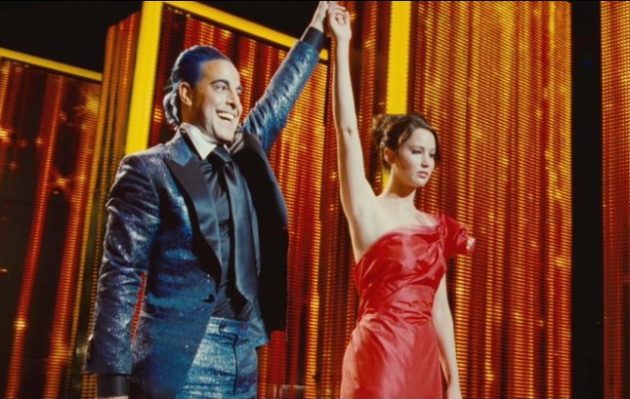 Happy Monday! Did you have a good holiday weekend? Here's hoping it was better than what transpired over the last few days at the box office, where returns ranged from modest to sluggish as America's families holed up with God and the Masters and whatever else struck their fancies while multiplexes hummed along quietly with a shrinking blockbuster and a few decent runners-up. Your Weekend Receipts

1. The Hunger Games
Gross: $33,500,000 ($302,839,000)
Screens: 4,137 (PSA $8,098)
Weeks: 3 (Change: -42.8%)
Spring's mega-hit crossed the $300 million mark sometime Sunday, while the global tally rose to an insane $459 million. Continued congrats to the gang at Lionsgate, for whom this money will no doubt buy at least 15 new Tyler Perry films.
2. American Reunion
Gross: $21,500,000 (new)
Screens: 3,192 (PSA $6,736)
Weeks: 1
As the American franchise goes, a $21 million opening falls on the low side of a spectrum that runs from American Pie's $18.7 million debut in 1999 to the first sequel's tremendous $45.1 million bow in 2001. On the bright side, all three previous films grew wickedly long tails here and abroad, pulling in well over $200 million at the end of the day. So sure: It's not a number you can penetrate a pie with, but history suggests that it'll get the job done.
3. Titanic 3D
Gross: $17,350,000 ($25,710,000)
Screens: 2,674 (PSA: $6,488)
Weeks: 1
It's a good thing that James Cameron and Co. aren't just a bunch of "greedy motherfuckers," because this showing would probably represent quite the disappointment. Art takes the day!
4. Wrath of the Titans
Gross: $15,010,000 ($58,899,000)
Screens: 3,545 (PSA: $4,234)
Weeks: 2 (Change: -55.1%)
Barring some late foreign-market miracle, this franchise is probably dead: At $200 million to make and market, it should be sitting on a little softer B.O. cushion than $135 million right now. Dare I say good riddance?
5. Mirror Mirror
Gross: $19,000,000 ($36,473,000)
Screens: 3,545 (PSA $4,234)
Weeks: 2 (Change: -39.3%)
A better-than-expected hold, but not much better. That's about all that I've got.
[Figures via Box Office Mojo]
Follow S.T. VanAirsdale on Twitter.
Follow Movieline on Twitter.