Watch Wisecracking Guy Pearce Get Interrogated in First Five Minutes of Lockout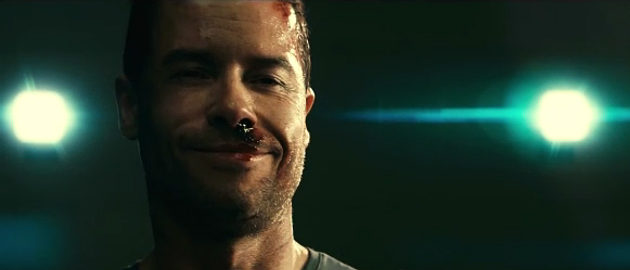 This week's Guy Pearce-starring, Luc Besson-produced Lockout might look like a run of the mill action pic -- that vague title doesn't help things -- but, as the film's opening scenes show, it's got a blustery '80s-style hero at its core and a punny sense of humor to move things along. Get a taste for the brawny bravado and hijinks to come in the film's first five minutes, viewable after the jump.

The thing about the first five minutes of Lockout is that you're either with it or not, and this is indeed your cup of tea, Lockout might be the most surprisingly fun action movie of 2012 you never saw coming. Pearce stars as Snow, a government agent wrongfully convicted after a mission gone wrong who is tapped to lead a one-man job into a high-security space prison to save the President's daughter (Maggie Grace) from the psycho inmates who've taken over the place.
It's Pearce's show, and though he told Movieline recently that he hadn't had Snake Plisskin in mind during the shoot, there are more than a few strands of Escape from New York and its antihero in Lockout's DNA. (Stay tuned for Movieline's full chat with Pearce this week.)
Much of this was featured in the first European trailer: The opening scene highlights both Pearce's tough-guy appeal and his character's penchant for baiting just about everyone with surly jokes, but the sequence is also notable for the tongue-in-cheek flair of co-directors Irish writer-directors James Mather and Stephen St. Leger. It's a neat trick and a ballsy one to kick off a movie with, and that's even before the flashback, bathroom fight scene, bed sheet gun flip, space helicopter assault, rooftop fall, and night market shootout. All in the first five minutes.
Lockout is based on an original idea by co-writer Besson (of course) and hits theaters this Friday.
[via MovieWeb]