TRAILER: Simon Pegg Is Paranoid in Adorable-Looking Fantastic Fear of Everything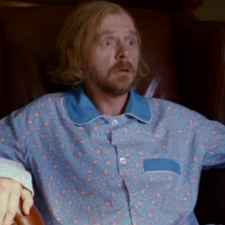 Even laundromats are scary to children's author-turned-crime novelist Simon Pegg in the intriguing British indie A Fantastic Fear of Everything, which is just about the most promising new trailer I've seen all week, and delightful to boot. Enjoy Pegg's litany of neuroses (and a stop-motion hedgehog!) in this first look at the film, directed by Kula Shaker frontman Crispian Mills.

A Fantastic Fear of Flying is written and directed by Mills with music video veteran Chris Hopewell co-directing, and puts Pegg front and center as a paranoid author obsessed with murder -- rather, obsessed with a fear of being murdered. The film also stars British veteran actor Paul Freeman as his doctor (Dr. René Belloq himself!) and Amara Karan (The Darjeeling Limited) and is slated for release stateside via Indomina, though no U.S. date has been set.
Pegg Tweeted the trailer today (hat tip, Film School Rejects):
Synopsis:
Jack (Simon Pegg) is a children's author turned crime novelist whose detailed research into the lives of Victorian serial killers has turned him into a paranoid wreck, persecuted by the irrational fear of being murdered. When Jack is thrown a life-line by his long-suffering agent and a mysterious Hollywood executive takes a sudden and inexplicable interest in his script, what should be his 'big break' rapidly turns into his 'big breakdown', as Jack is forced to confront his worst demons; among them his love life, his laundry and the origin of all fear.
Maybe it's the Easter sugar buzz talking, but to me it's as if the movies of Wes Anderson and Michel Gondry had a neurotic British love child. I love everything about this so far. Comment away below!