GALLERY: The American Pie Cast, Then and Now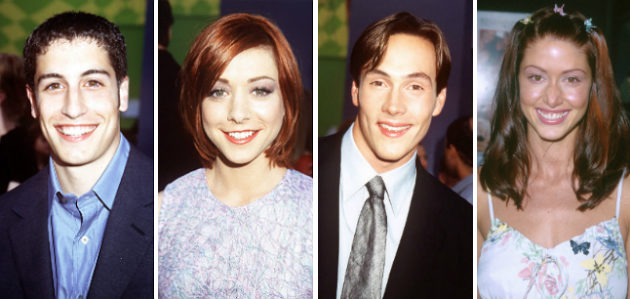 It's hard to believe it's been 13 years since Jason Biggs first made sweet, sweet love to that apple pie, but with this week's American Reunion the gang is back, three sequels and four subpar spin-off movies later, to catch up and wax nostalgic about the good old days. Marinate on where all those years went while you catch up with the American Pie gang in Movieline's Then and Now gallery and inevitably decide -- as we all do on occasion while wine-drunk, yearbook in hand -- which among them aged the best over the years.

The whole gang is back in American Reunion, which sees the return of Biggs, Alyson Hannigan, Chris Klein, Mena Suvari, Shannon Elizabeth, Thomas Ian Nicholas, Seann William Scott, Tara Reid, Natasha Lyonne, Eugene Levy, Jennifer Coolidge, and yes, The Shermanator. More than a decade after their first outing I'd say the entire American Pie cast is looking good. Especially you, Eugene Levy. Rrrawr.
Click to launch the time warp to 1999 gallery!