Which Possibly Departing SNL Cast Member Will Make the Smoothest Jump Into Film?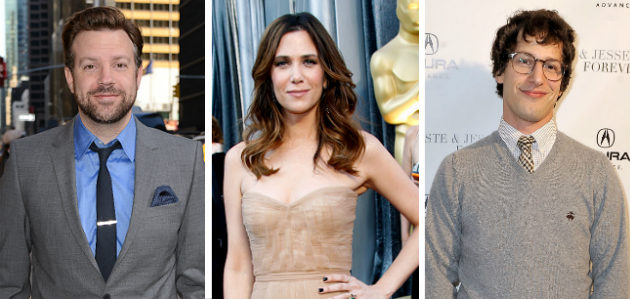 It's a natural career progression for Saturday Night Live stars to depart for greener pastures for the sunnier climes and star salaries of the big screen, but has that time come for current standouts Kristen Wiig, Jason Sudeikis and Andy Samberg? So says a report by US Weekly, whose insiders claim the trio are ready to leave after this season. And that wouldn't be out of the realm of possibility, considering that Wiig, Sudeikis and Samberg have all been taking concerted steps towards film in recent years. So let's prognosticate: Which of these possibly-departing SNLers will make the smoothest transition out of SNL?

Wiig's been a cast member since 2006 and the show's star for many years, and has for a while seemed most poised to depart SNL. (She deftly expressed gratitude for her concurrent SNL and film careers last year to Movieline, but admitted that a post-SNL film career was in her sights.) Thanks to Bridesmaids, Wiig has had enjoyed the most cinematic success of any current or recent SNL star; she's even got an Academy Award nomination under her belt for scripting the hit with Annie Mumulo.
More tellingly, Wiig has already been ramping up her film work and has a lot on her plate for the coming year and beyond; in addition to Friends with Kids, in theaters now, she's got the comedies Revenge for Jolly, The Secret Life of Walter Mitty and pet project Imogene coming up as well a handful of additional projects in the works, including the Sean Penn-helmed The Comedian and How to to Train Your Dragon 2. And, significantly, the bulk of her current and future film resume is in lead or lead actress roles.
2011 was also a breakout year for Sudeikis, who raised his big screen profile with starring roles in Hall Pass and Horrible Bosses. (He also starred in the limited release A Good Old-Fashioned Orgy.) Sudeikis also popped up regularly on Eastbound & Down and The Cleveland Show, and will appear in the upcoming Will Ferrell-Zach Galifianakis film The Campaign as well as the Peter Farrelly-produced comedy project known as Movie 43, though it may not be until 2013's Relanxious -- a relationship comedy starring Sudeikis as an agoraphobe who falls in love with an anxiety-ridden woman, played by Sudeikis's real-life girlfriend Olivia Wilde -- that audiences see more of what Sudeikis can do as a straight actor.
Which brings us to Samberg, whose own leap into film as a lead actor predated that of Wiig and Samberg, in a way; 2007's Hot Rod was a starring vehicle for the SNL upstart, a showcase for Samberg and his fellow SNLers/Lonely Island partners Jorma Taccone and Akiva Schaffer that nevertheless wasn't a terribly effective launching pad for their film careers. (That said, MacGruber is an overlooked, misunderstood gem, and don't you even try to tell me otherwise.) Samberg then voiced the lead monkey in Space Chimps (Huzzah?), but followed up with a string of supporting roles in films like Nick & Norah's Infinite Playlist, I Love You, Man, Cloudy with a Chance of Meatballs, What's Your Number and Friends with Benefits, playing second or third fiddle to other starring actors.
Coming up, Samberg lends his voice to the animated Hotel Transylvania and makes an appearance in Aubrey Plaza's breakout hopeful The To-Do List, but the Sundance pic Celeste and Jesse Forever, which features Samberg in a more seriocomic turn, could be his best shot at transitioning from SNL to leading man status. First, however, will come Samberg's next stab at mainstream comedy success -- playing the straight man to Adam Sandler in this summer's That's My Boy. Will Sandler's established box office star power rub off on Samberg, allowing him to launch his own successful run of leading film roles?
Verdict: Wiig's sitting pretty with movies in her sights (and seems primed to bolt from SNL once her contract is up). Sudeikis and Samberg, on the other hand, should follow Wiig's lead and choose their film projects wisely. (Then again: Why can't Sudeikis just stay on SNL forever to back-up dance during "What Up With That?" for the rest of time?)
Follow Jen Yamato on Twitter.
Follow Movieline on Twitter.