TRAILER: Taylor Kitsch and Aaron Johnson Just Want Their Girlfriend Back in Oliver Stone's Savages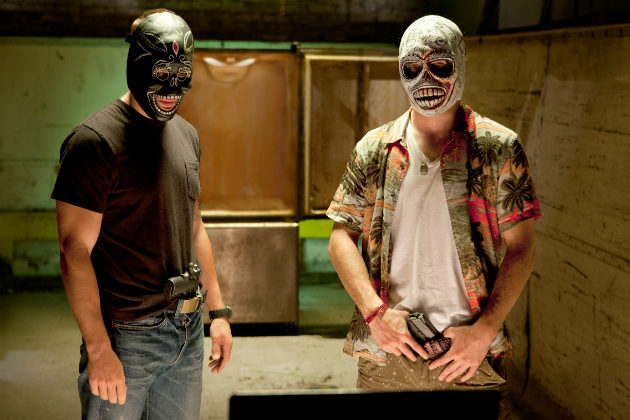 Why would a Berkeley grad weed dealer and his ex-Navy SEAL partner take on a Mexican cartel who wants in on their business? To get their kidnapped shared girlfriend back, of course! Since said shared girlfriend is Blake Lively, I can understand why Aaron Johnson and Taylor Kitsch would risk life and limb to fight off Salma Hayek's gun-wielding goons. I'm not quite as sold on why Oliver Stone would make a movie like this, but after watching the trailer for Savages, hell -- I'm in.

Let's catalogue all the things in the first trailer for July 6's Savages, which debuted on MTV, that are intriguing:
- Aaron Johnson's UC Berkeley white boy dreads, which I might otherwise find unappealing if they weren't on him and only for like 5 seconds
- (Side note: I went to Cal and I never once encountered a pot dealer who looked like Aaron Johnson. Sigh.)
- Aaron Johnson and Taylor Kitsch as odd couple bro-buddies
- Blake Lively as a woman who is so in love with both Aaron Johnson and Taylor Kitsch she decides she'll just date them both at the same time in some sort of super progressive three-way relationship
- Blake Lively embracing her sensuality and being actually interesting for once (see above)
- Salma Hayek's bangs
- Taylor Kitsch stabbing John Travolta out of nowhere
- Evil Benicio del Toro literally twirling (okay, nervously stroking) his evil moustache
- The return of California surfer-outlaw chic -- are skeleton hoods the new President masks?
Verdict: Bring on the Johnson-Kitsch sandwich.
Savages is adapted from Don Winslow's novel, with a script penned by Winslow and Shane Salerno.
Official synopsis:
Three-time Oscar®-winning filmmaker Oliver Stone returns to the screen with the ferocious thriller Savages, featuring the all-star ensemble cast of Taylor Kitsch, Blake Lively, Aaron Johnson, John Travolta, Uma Thurman, Benicio Del Toro, Salma Hayek, Emile Hirsch and Demian Bichir. The film is based on Don Winslow's best-selling crime novel that was named one of The New York Times' Top 10 Books of 2010.

Laguna Beach entrepreneurs Ben (Johnson), a peaceful and charitable Buddhist, and his closest friend Chon (Kitsch), a former Navy SEAL and ex-mercenary, run a lucrative, homegrown industry—raising some of the best marijuana ever developed. They also share a one-of-a-kind love with the extraordinary beauty Ophelia (Lively). Life is idyllic in their Southern California town…until the Mexican Baja Cartel decides to move in and demands that the trio partners with them.

When the merciless head of the BC, Elena (Hayek), and her brutal enforcer, Lado (Del Toro), underestimate the unbreakable bond among these three friends, Ben and Chon — with the reluctant, slippery assistance of a dirty DEA agent (Travolta) — wage a seemingly unwinnable war against the cartel. And so begins a series of increasingly vicious ploys and maneuvers in a high stakes, savage battle of wills.