REVIEW: Sex Is Messy — Even Without Pie — in American Reunion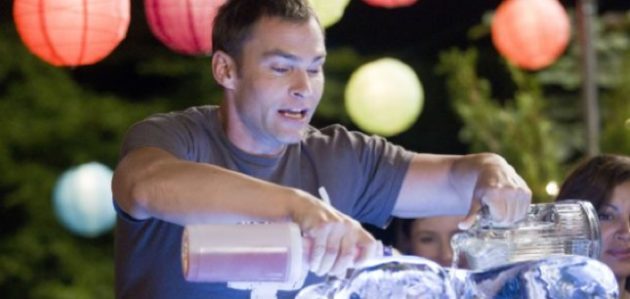 It ought to be no fun watching characters you came to know as randy, unruly high school students turn into grown-ups with jobs, families and crappy sex lives. That's what happens to real-life people; why subject fictional characters to it? But somehow American Reunion — the third movie sequel to Paul and Chris Weitz's hall-of-fame teen sex comedy 1999 American Pie — makes the harsh reality jolt almost painless.

The picture is devilishly entertaining, not least because it's laced with just the sort of dumb raunchy jokes you hate yourself for laughing at. But it also preserves, to a degree, the elemental sweetness that made the original (though not the two subsequent sequels) so distinctive: In the first movie, embarrassment and awkwardness over sex results not just in a mess in the kitchen, but in painful and unbridgeable rifts between people. In American Reunion, that awkwardness may have lessened somewhat, but it hasn't completely gone away. You can think you're trading old problems for new ones, only to find that the old ones are perennial – they just find different ways to flourish in your life.
That's a discomforting idea in the midst of a picture that trades mostly in gags about tube socks' being used for illicit personal business, nostalgia for the mind-blowing oral sex of yore (meaning high school) and men who, as they near middle age with all its attendant spare tires and love handles, can't help looking hungrily at the nubile teenage babes they used to be able to attract. Directors Jon Hurwitz and Hayden Schlossberg (the masterminds behind the always-silly but also surprisingly progressive Harold and Kumar franchise) are perhaps more comfortable dealing with ridiculous sex jokes than they are with raw human feeling. Still, American Reunion chugs along with brash confidence, unembarrassed about how crude and goofy it is. Dumb cheerfulness – in the face of life's big quandaries, no less -- is its big selling point.
Jason Biggs and Alyson Hannigan are back as Jim and Michelle; they've managed to survive a few years of married life and now have a toddler son, which means, of course, that their sex life has taken a nosedive. Still, they're looking forward to getting away from it all at a weekend reunion with the high school old gang: Kevin (Thomas Ian Nicholas) is now a stay-at-home architect whose life is ruled by his significant other; Oz (Chris Klein) is a smooth TV sports analyst with a pneumatic blonde girlfriend; no one even knows where Eddie Kaye Thomas's Finch is (though he makes the most glamorous entrance of the bunch, perched on a motorcycle and swathed in mystery); and Stifler (Seann William Scott) is still being vulgar, horny, annoying Stifler, so much so that he hasn't even been told about the reunion.
That doesn't stop him from showing up, and he proceeds to work all kinds of satyr-like mischief. The girls show up too, and characteristically, they seem to have evolved further than the guys have. Oz's old squeeze Heather (Mena Suvari) arrives on the arm of her surgeon-boyfriend, only to realize she's still captivated by her ex-boyfriend's luminous guilelessness (which he's held onto even though he's now a show-biz guy). And Kevin melts at the sight of Vicky (Tara Reid), even though he's clearly happy with his bossy wife. Meanwhile, Michelle bemoans her moribund sex life, and a new character, Selena (Dania Ramirez), arrives on the scene to serve as a love interest for one character who truly deserves one.
The sordid silliness that ensues includes Jim's being seduced by the now-comely young woman for whom he used to baby-sit; Stifler showing up in full party regalia, an "Orgasm Donor" T-shirt; the marvelous Eugene Levy, in an array of short-sleeved dad shirts, attempting to re-enter the dating game (he has a great moment where he asks, earnestly, if a "vadge" is half a vagina); and Jennifer Coolidge as the legendary vixen known only as Stifler's Mom, who spends her few small scenes relaxing (and almost audibly purring) on a divan as she waits for her next victim to enter her lair.
It's all as ludicrous as you'd expect, but everybody goes away having learned a little something about life, love and assorted unorthodox sexual practices. The plot takes a few missteps: Eddie Kaye Thomas's Finch – who, in the first movie, was a debonair misfit high-schooler in an ascot – is given a cool backstory that's ultimately taken away from him, a grave mistake. But mostly, Hurwitz and Schlossberg (who also wrote the script, based on Adam Herz's original characters) allow everyone the appropriate amount of dignity – and remember, these guys don't need much. Least of all Scott's Stifler, who, in all his wickedness, really is the movie's heart and soul, so pure in his Stiflerness that it's impossible to revile him without loving him too. At one point he flips through the yearbook and reminisces about a favorite sexual conquest: "She was the mouth that got away!" he says wistfully. But he too is forced to reckon with some mind-blowing realities: The look on his face when he learns that two – or more! – of his fellow lacrosse-team members are gay is that of a kid who's just seen Santa Claus getting it on with mom. His disbelief is so pure and naïve that it's almost not funny -- but in the end, of course it is. And the movie gives him, and his lacrosse-player pals, a clever and welcome moment of grace. American Reunion is suitably generous toward its characters. For those who are turned off by such blatant displays of humanity, there are also dick jokes. You see, everybody wins.