Holy Car Porn: WB Hosts Batmobile Orgy for Dark Knight Rises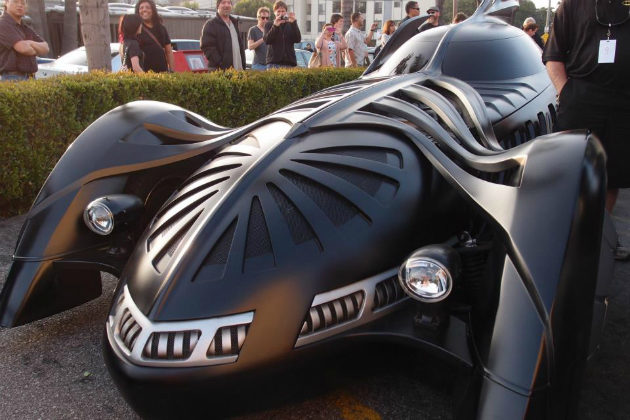 Because Bruce Wayne's sweet ride gets everyone's juices flowing (well, except for that Adam West-era number, which doesn't do much for me), here's something for the Batmobile lovers out there, taken from a Batman event Warner Bros. hosted last week for The Dark Knight Rises. Arranged for a bonus feature on the July sequel's eventual Blu-ray release, WB gathered all 5 Batmobiles from TV and film in Burbank, to be paraded down the street and ogled by adoring fans for the first time in public. Aww, yeah. Pull down the shades and start salivating to the sexy sounds of Danny Elfman's Batman score, y'all. It's a Batmobile orgy.

The car porn comes courtesy of Vimeo user Josh Turchetta, who put together footage he shot at WB's event on March 30. (Legendary Entertainment posted photos from the event to their Facebook page, including the above shot.)
In the video, behold every dark and sexy curve of the Batmobile over the years. Even the utilitarian angles of the Tumbler are pulse-quickening in this light. Lower those fins, Batman Forever-mobile! Slowly...
And just for good measure: Remember how good Elfman's score sounded as Michael Keaton's Batman whisked Vicky Vale away to his lair?
As for the Batmobile, the sleek and muscular Batman/Batman Returns design has always had my heart -- make your case below if you disagree.